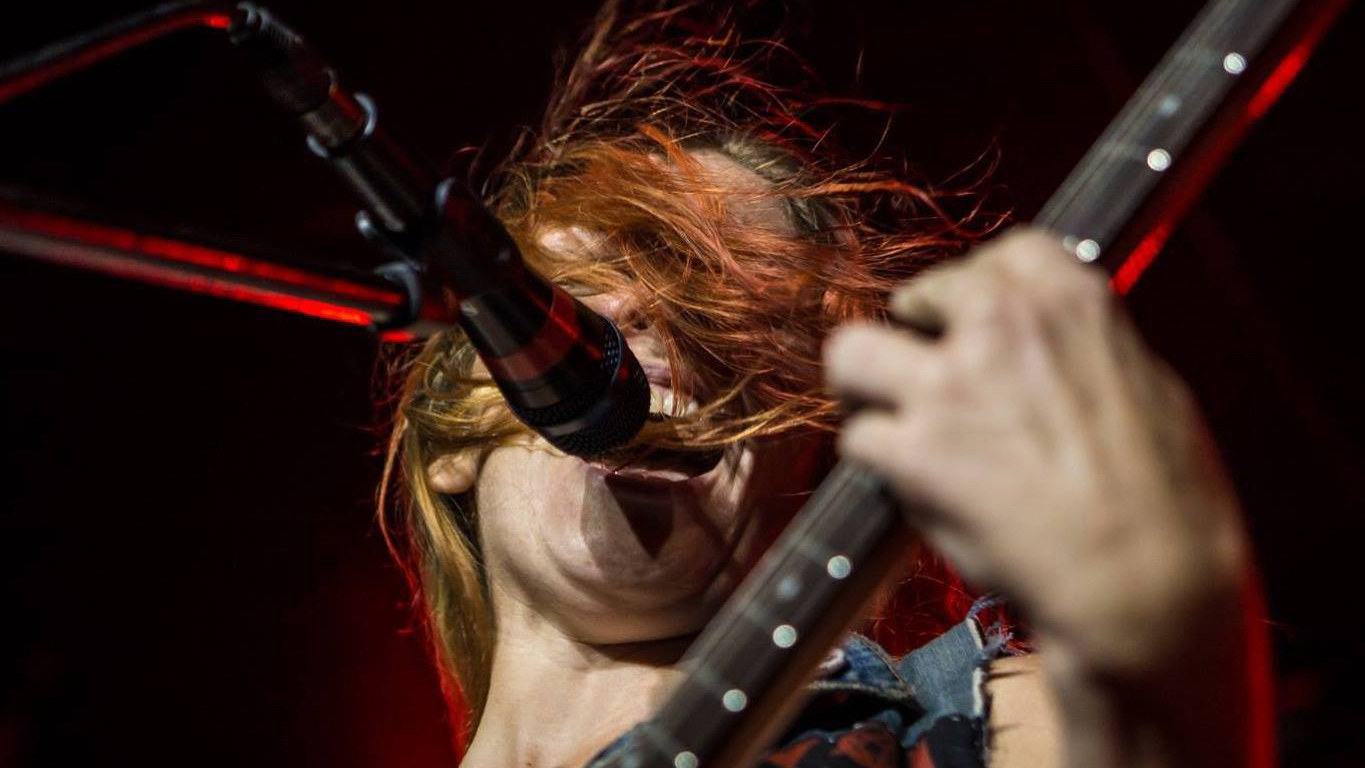 April Jones is possessed to skate, rock, and help the homies out
Some people might interpret the grimy riffs of heavy metal as a summons to the fiery pits of hell but for April Jones the genre, plus art and skateboarding, are bridges to her life of DIY altruism. I met April years ago in Portland before her relocation to San Pedro; her enthusiasm and commitment to her craft is unforgettable. Lots of people allow uncertainty in their ability or a lack of confidence to hold them back from pursuing their dreams. Not April. She's charging into the future with her camera, skateboard and guitar on a mission to make the world a better place, in her backyard and yours. I recently caught up with her to discuss Concrete Law, the feature length documentary she made about the efforts of San Pedro citizens & skaters to save their local DIY skatepark, life during COVID, and her effort to raise funds for a friends gnarly cancer treatments.  April is a dedicated metal head making loud noise for good cause. -Migz
 You're selling your paintings on Instagram to raise money for a gofundme campaign for a friends medical procedure. Can you tell us more about this and also, about your artwork? What artists inspire you?
One of my best friends of 20 years Veronica Greene aka VRon from Portland needs an emergency medical procedure that could save her life. She has been diagnosed with an aggressive giant cell tumor throughout her femur, hip and surrounding tissue. It has spread outside of the bone and is moving up into a more dangerous and critical category. She needs a hip replacement and removal of any possibly affected bone, muscle and tissues. Shit is so gnarly! So I donated & put my art up for sale. I've raised $620 so far.
VRon is a super rad and unique artist who helped to cultivate the Portland creative scene. She has always supported the arts, skateboard, punk & metal, and LGBTQ culture. If anyone reading this is able to donate $5, $20… anything helps. Us creatives gotta stick together. A very important element in keeping the underground alive is the constant reciprocating support.
As far as my favorite painters- Frank Frazetta, Caravaggio, Boris Vallejo, and Goya. Ooo, the darkness in Goya is quite delightful! My style lies in the dark fantasy and heavy metal realm. It's also influenced by a lot of my life and experiences. I get really inspired when I see my friends creating some bad ass shit! Always love seeing what Jay Meer is throwing up, Scott Scizo, Ashley Montague, and Sandy Peraza's art is pretty sick too… and Scott Aicher and Bossdog here in Pedro…the Few and Far crew… and so many more. In my opinion, everyone who has their own style and is carving their own path is really fucking rad!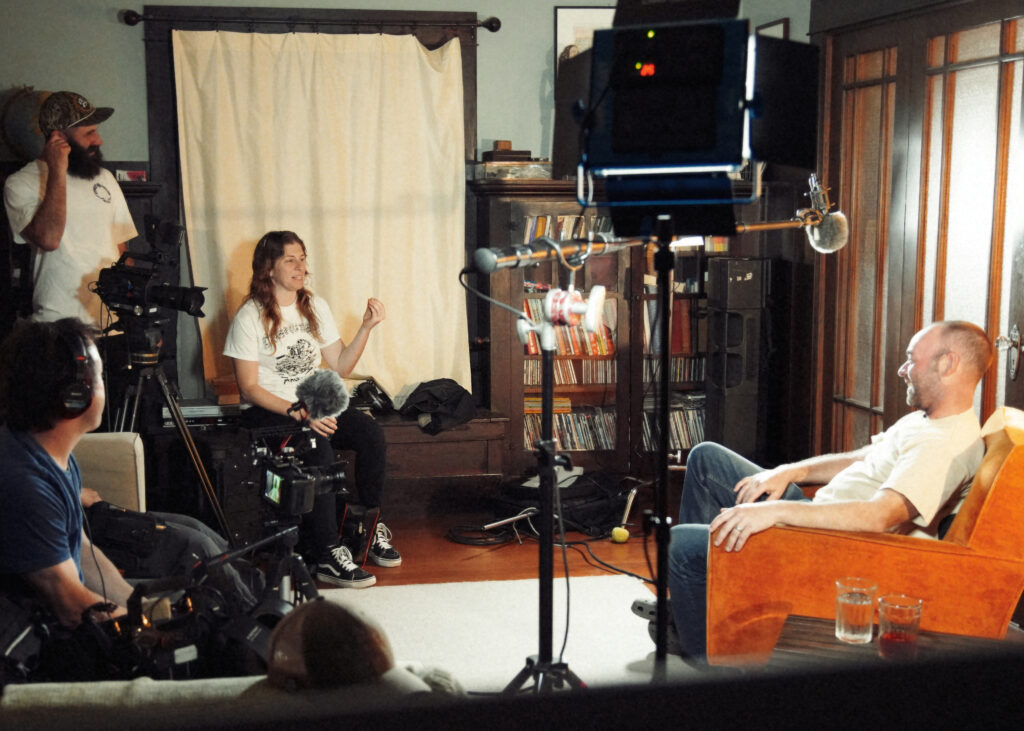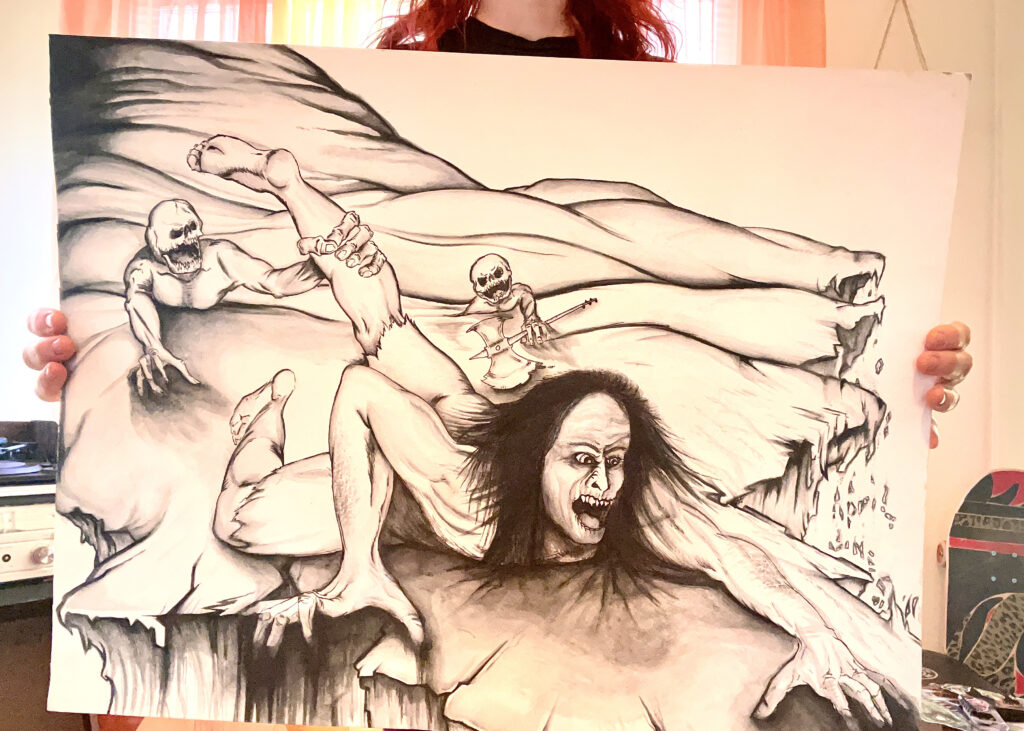 It seems like you are always working for the betterment of communities- when you lived in Portland with the music scene, and now in San Pedro with Channel Street Skatepark. Where does your passion for service come from? 
Just being a part of the underground community makes you aware of the underrepresentation of amazing artists. In Portland, I saw an opportunity to improve on things in the video realm. Some raw, live, filthy, and uncensored rock and roll needed to be documented in Pacific Northwest. So, during film school (PCC) I started Slayed in Oregon, a public access TV series that focused on underground Metal, Punk, and Skateboarding! Never underestimate the power of public access. I put out over 40 episodes with a $0 budget. If you have a vision you just gotta take action. No fucking rules, just get 'er done. Honestly, during parts of my life I haven't had a roof over my head or food in my stomach so I'm just very grateful to be in a place where I can help out. 
This year has been really rough for a lot of people, music, art and skateboarding helps a lot of us thrive and survive. If we want to live in a creative world we must provide that seed and water it then it grows into a fuckin' big ass pot plant or something. Haha or a skatepark, like Channel Street.
Speaking of Channel Street, you are creating a documentary about it. Can you give us a little background on your project and the park itself? How did it get created and why/how did it shut down? When was the first time you skated it?
I drove down from Portland just to skate Channel Street a few times before it shut down. It is a DIY skatepark built starting in 2002 without permits or permission under the 110 freeway in San Pedro. Almost 6 years ago CalTrans realized it was illegal and shut it down to make way for freeway construction project. The Council members had been aware of the park and were cool with it, but were virtually powerless when the bureaucratic powers of Los Angeles stepped in.
The San Pedro Skatepark Association and city council have been battling relentlessly to save the park which requires navigating several complicated steps and agencies. In making Concrete Law, I saw the opportunity to learn about this process and get info that could potentially help save this and other DIYs facing similar circumstances. Concrete Law dives deep into the process of legalizing Channel Street skatepark and navigating this bureaucratic web.
Who are some people you interviewed to get information for this film?
I started with the San Pedro Skatepark Association, so Robbie, Andy, Bill, Yamo, Concrete Gabe, and Vinnie. Then I interviewed the council members and the Planning Deputy who is leading the project. Then Ronnie Sandoval, Robbie Russo, Matt Russo, Riley Stephens, Jordan "Red", Felicia, and a bunch of other local rippers. Also, the local pizza joint, Big Nick's Pizza who shares the parking lot with Channel Street. They opened business the same year the guys started building, so they had an interesting perspective on the whole thing. Skateboarders are the reason they started selling pizza by the slice!
Skateparks like this are destination places that provide support to the nearby economy. When Channel closed down, I heard the liquor store closed down, haha. Huge thanks to Vans, who joined midway to help finish the feature length production. They helped me get interviews with Tony Hawk and Miki Vukovich of the Tony Hawk Foundation which was a big donor early on. Their perspective is really beneficial to understanding the advocacy realm because skateboarders generally don't know where or how to talk to city officials. And we need to learn how to advocate for ourselves. The council made an announcement in December 2020 about Channel Street. Things are still moving forward. I can't say for sure when it will be opened, but it seems to be like they are on the last step. I did an really in-depth 8 page interview with the SPSA in the most recent Juice Magazine. For more information, early access, and updates you can subscribe at www.concretelawfilm.com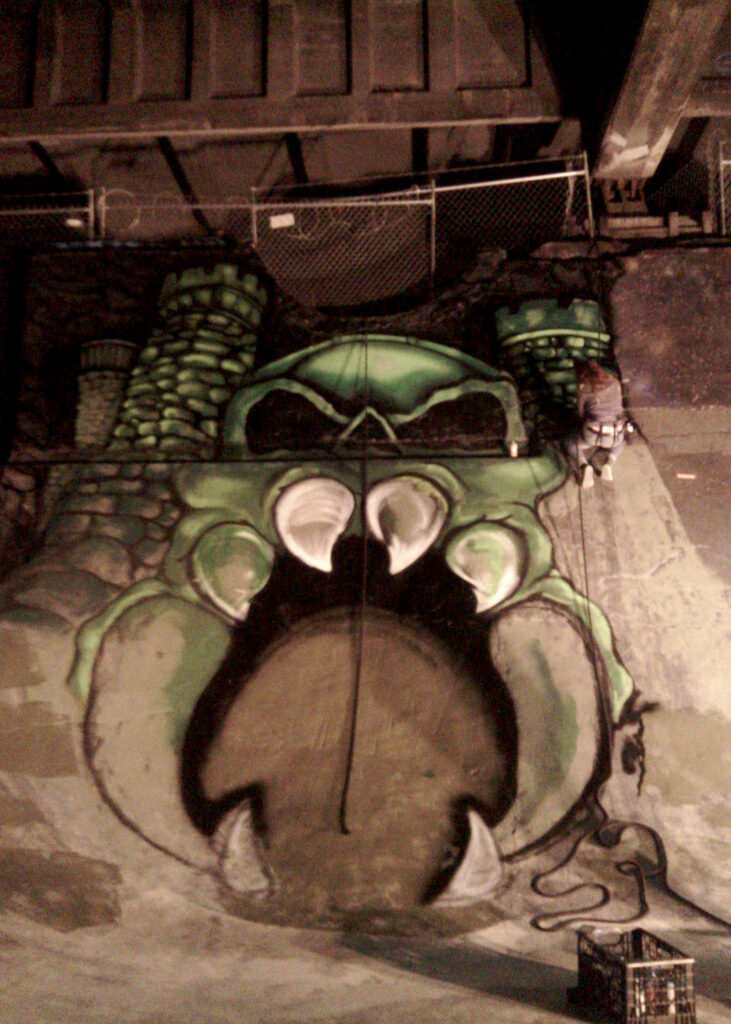 You just released an album, "Shoebox Jones" and donated the proceeds to DIY skateparks. Can you tell us a little bit about the album and where to get it? And tell me about the T-shirt fundraiser for Channel. How else can people contribute to the cause?
Shoebox Jones is a skate thrash project I started in 2019. It was a nickname given to me. I had a few instrumental songs going and then John Christopher, formerly of the Mentors, hopped on drums… and then Covid happened, which postponed everything including my film. I was also dealing with a skate injury at this time and could hardly walk. Even worse, I couldn't skate. Because of this, the album turned out really heavy and pissed off… in a good way! Some of the lyrics explore mental health, traumatic brain injury, and the demons we encounter when skateboarding. I wrote the Bulldozers Blade specially for the Concrete Law film. The lyrics are written from the eyes of a bulldozer, seeking out to destroy DIY skateparks, haha. I donated all the proceeds of my EP to DIY skateparks; Marginal Way, the Skunk Bowl, Broken Neck, and a couple others just getting going.
The T-shirt fundraiser was part of a campaign for Channel Street called Together We Are Stronger, led by screen printing shop, Calimucho here in San Pedro. Back in March at the start of the quarantine they started gathering artwork from local businesses, artists, and musicians to raise money for the community's survival during these hard times. Local artist Scott Aicher created the super rad design. I also teamed up with Calimucho this year on a live streaming telethon event to help support and uplift our community. 
What female skaters are you enjoying watching footage of or following on insta these days? What do you hope to see in the future of women in skateboarding?
Ya know, I have been seeing a lot of rad fucking rippers around the interweb but Maddie Collins… Where in the holy pits of hell did she emerge from? Fucking annihilating. 
Elly Ryland up in Vancouver- I love her punk rock style!! Vancouver, Canada is on my bucket list. Breana Geering is rad to watch rip it up and the Skate Witches too. There are so many! I'm definitely missing the Northwest sessions with my ladies; Jess Starkweather, Liz Brandenburg, Tanya the Donk, Elayne Bettzig, Hudson Poston, Sarah Scanlon, Sasha Madden, Colette, Chloe… there are so many more. The main thing I like seeing is an aggressive session and progression. It's gotta be hesh!
When did your passion for skateboarding and metal begin? Is there anyone in particular that helped you uncover this interest?
I got into heavy metal, punk rock, and skateboarding at a very young age. I was named after a rock n' roll band, April Wine. Thanks Mom! I just love the aggression and the violent truths that come from this type of music. It makes a fucking statement. We need more individuality! I think life itself has been my mentor. I've had to learn things the hard way without the guidance or many positive influences in my life. Without the support, encouragement and love from my friends, I probably wouldn't be here, I'm sure a lot of us wouldn't. That's what keeps us riding this crazy train!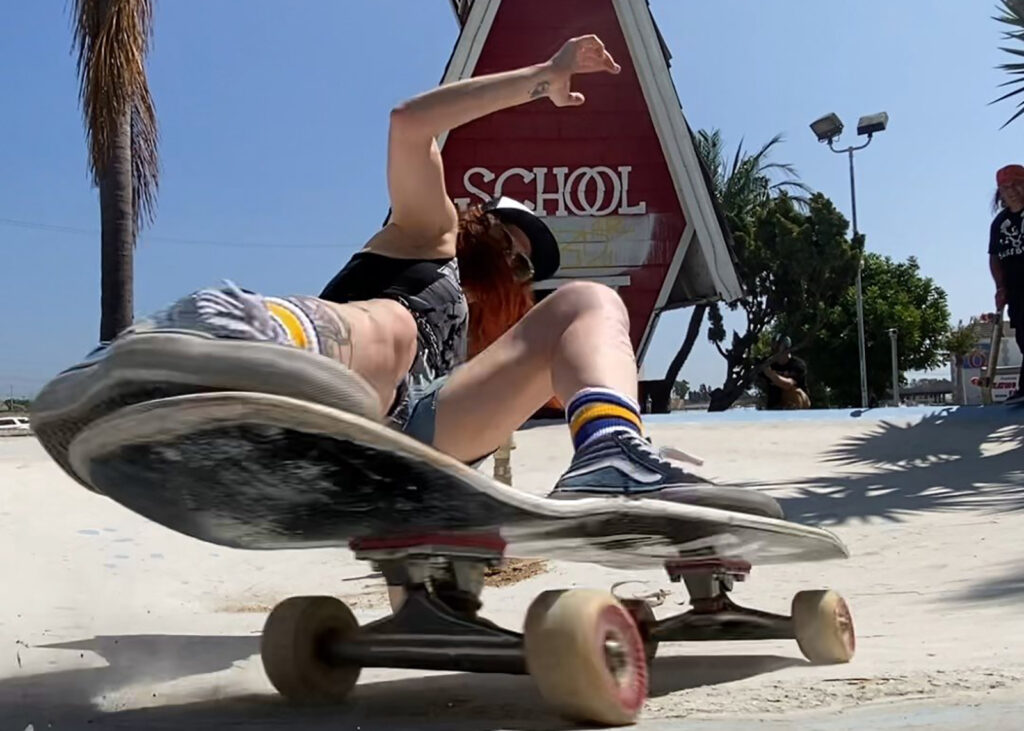 How have you survived the pandemic, and what do you hope for when life gets back to "normal"?
I've been surviving OK. I have a stable day job so very, very grateful for that. There's a lot of loss in the world that has made me feel even more thankful for what I have. I've still been doing art, music, skateboarding, filmmaking, and hell-raising of course. Anxiety was higher than usual this year and I've learned to channel that into creation. I released 2 short documentaries. Choosing to see the good in people, rather than focus on the negative has helped me survive the pandemic. In the words of Calimucho, Together We Are Stronger. Lets remember that and go fucking shred!
April Jones is a documentary filmmaker whose main body of work covers the underground heavy metal and punk rock music genres. Her creativity takes on many art forms, including filmmaking, paintings, music and skateboarding. Check out some of April's work at www.dreamevilpictures.com