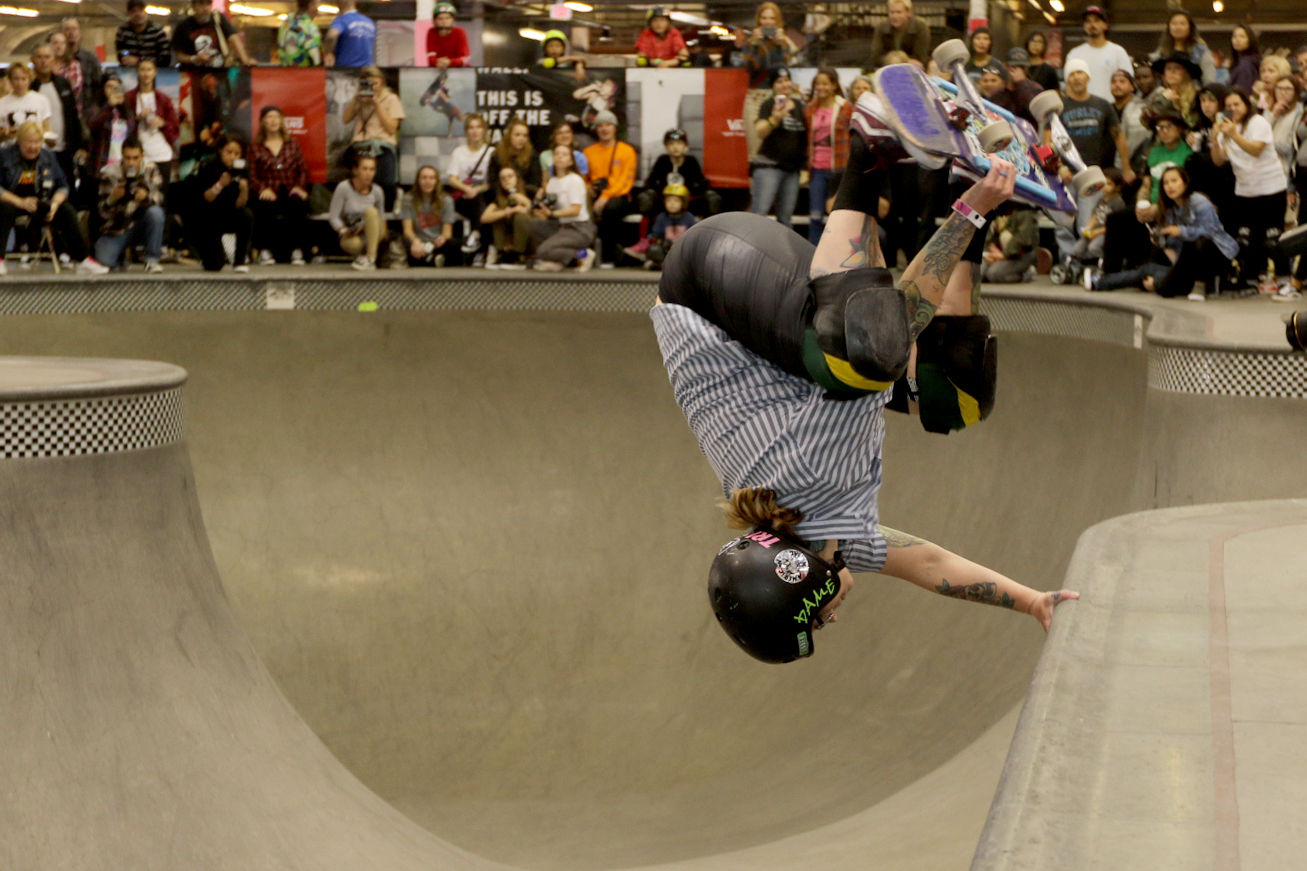 We first spotted Gabrielle Rataiczak at the 2019 Combi contest in Anaheim when BIGFOOT was just a bastard newborn. We were pretty engrossed in door knocking for the "Alex for Olympic Commentator" campaign, but when Gabby started ripping up the Combi with her classic style and one of the greatest inverts in the game, we stopped and paid attention. Free of the restrictive limitations of space and time, she could have been competing for the gold on the vert ramp at Slam City Jam in 2002 alongside female legends like Jodi McDonald, Cara-Beth Burnside and Jen O'Brien.
Advertisements

Currently, Gabby is surviving the pandemic in rural Ohio with her husband Nic, brightening up snowy days by creating (and selling!) her vibrant paintings, and like us all, wondering when this bullshit pandemic is going to end. Being a skateboarder in the midwest takes a lot of dedication; Gabby travels many hours to skate spots in surrounding areas and works hard to keep the female/non-trad skate scene out there thriving by organizing skate events and meet-ups in non-pandemic times.
It's interesting to reflect on what draws us, as individuals, to skateboarding. Lots of kids find like-minded buddies on the block and dive in as a group. But for many, especially the more isolated, the discovery of skateboarding comes via research. Gabby credits her old-school maneuvers to videos like Powell-Peralta's Future Primitive and Ban This. She also has a unique appreciation for her female vert/pool skating predecessors, like the aforementioned and BIGFOOT's super star tax lady/Arizona pool legend Cressey Rice! For a young girl from Ohio to know of, acknowledge, and have the tenacity to follow in the footsteps of vert's under-appreciated foremothers is super special & unique. She's just out there in the midwest, blazing her own new trail by continuing the legacy of those who came before. Can't wait until we can all run free once again, and Gabby can continue showing the world how to be rad.   -Migz
1. Name – Gabrielle Rataiczak
2. Age – 27
3. Hometown – Canton, OH
4. Current Location – Mantua, OH
5. Signature trick – Either invert or frontside layback.
6. Sponsors – Physical and Spiritual S1 Helmets (flow) SpeedLab Wheels (flow) American Nomad, Butthole Ditch Clothing, Tri Star Skateshop, my schnoodle Dander.
7. Where do you mostly skate, during the winter and/or summer?
Winter time, we are limited on spots, but they are pretty fun. Either travel 3 hours to Michigan to skate Modern Skatepark or there's chainsaw ramp which is in our friends pole barn or Tri Star. Summer time, all over. Local spots are 9th street DIY, Crooked River, street spots/ditches, Hudson.
8. How did you start skating?
My dad. I grew up around him and his friends and my dad built quite a few ramps at either someone's house or the back of a skate-shop/warehouse. Always looked up to him and he would take me to these places with him.
9. What have you been doing to stay happy during the pandemic?
Just staying busy painting, decorating my home, hanging out with my husband and pup. Trying to skate when we can.
10. What's your favorite website for online shopping?
I actually do not online shop much. Haha
11. Plans for 2021?
Stay healthy/improve health. Keep painting. Hoping to start working on an edit that I've always wanted to do, but I dislike putting myself out there. I think it will be a fun challenge for myself though. Building a bowl in my backyard.