Nicole Noller channeled her nephew's taunts – after she fell the first time she stood on his skateboard – into a lifestyle, and we can probably all learn something from that kind of determination. 
After serving in the United States Air force from 2001-2009, Nicole found skateboarding at 25, which really opened up her mind.  "Skating made me see there are so many different types of people in the world and no one should be judged based on looks alone."  She found a skate crew that took her under their wing, and she says they were a little older and looked scary, but she got to know them and connected to the community. 
Nicole (currently sponsored by Colorado Skateboards) is known for bringing her pup to the skatepark and cruising around with him occasionally, and says she wouldn't be where she is today without her OG crew (shoutout to Phil and friends).  "It's very intimidating being the only girl at the park, especially 13 years ago when there weren't many at all! They were amazing, and they showed me how great the skating community could be."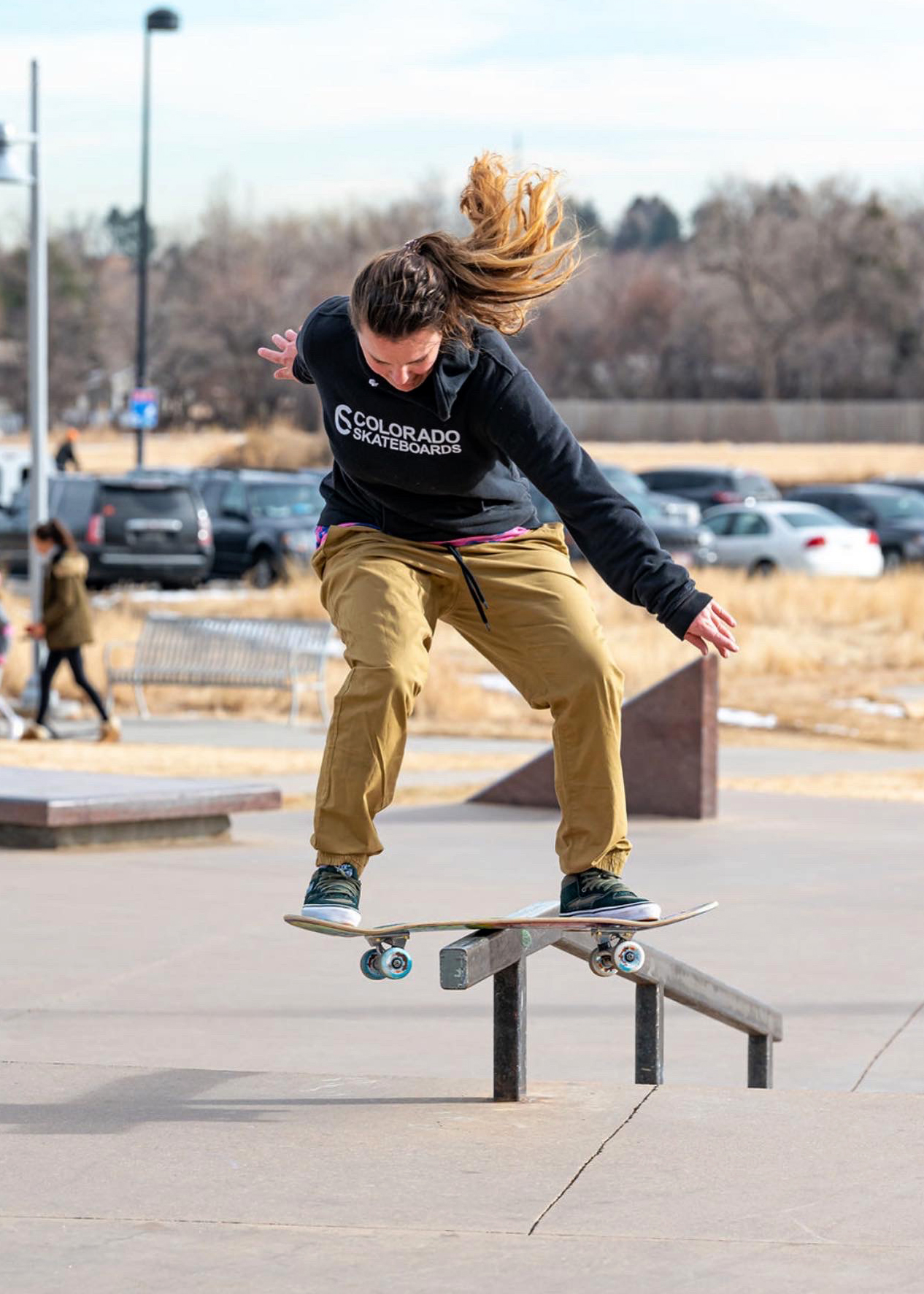 Name: Nicole Noller
Age: 38
Pronouns: She/Her
Hometown: Denver
Current Location: Denver
Day job? SSA
Signature Trick:
Nose Blunt I guess since I do it so much? It's not my fave trick though, it's just easy to do and a crowd pleaser.
Catch Phrase: Skillzzzzzzzzzzz
What is the last thing you saw that made you laugh really hard?
My dog slipping out on ice, he recovered well though, and he doesn't like to be laughed at! 🤣
Favorite tattoo or something else cool about you?
I love my rainbow 'skate is life' tattoo on my left forearm. 🌈 🛹  and the one Vet did for me on my wrist of a stick figure doing a nose blunt.
Three things you can't live without?
Skating, my dog, my people.
Anything else you want us to know?
I've had an amazing journey skating and I wouldn't change finding it for anything. It's taken me all over the country, first with Girls Riders Organization then the many contests World Cup Skateboarding and Exposure do, and traveling just to skate with friends. I love meeting new skater girls and encouraging them. I hope to stay a positive influence on the young ones, and an inspiration for all.
Also, if anyone comes through Colorado, HMU on instagram @nicolenoller, you have a place to stay and a skatepark tour guide if needed, we have soooooo many amazing parks close by!