Feral Cat Cove is a DIY spot in Southeast Portland that started a couple years ago but has grown through the pandemic into three small bowls in a sleepy corner of an often-neglected neighborhood next to a bike path. It is one of dozens of new DIY parks that have popped up around the country over the past year of pandemic shutdown. The future of many of these spots is now up in the air, as restrictions are lifted and cities decide what to do with them.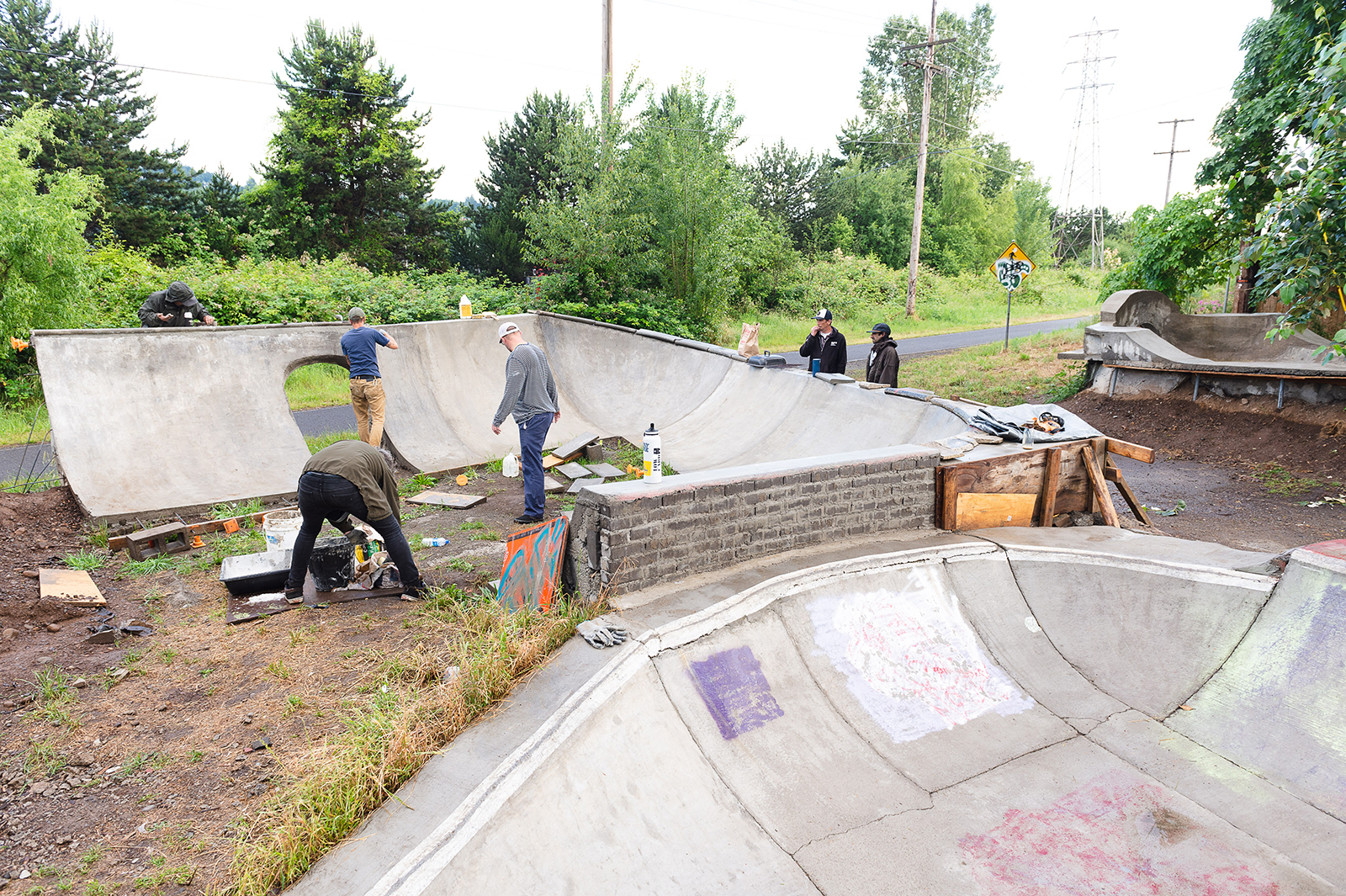 My friend hit me up on a Tuesday in mid-June and said the City of Portland was planning to demolish a new DIY spot the next day (this turned out to be a false rumor, but none of us knew at the time.) He and some others were planning to camp out at the spot overnight to save the park. I threw my cameras in the car and headed over, picking up some ice on the way.
Rain started as soon as I pulled up and met the guys who were planning to camp out. A minivan with a local news camera crew was parked across the street as the cameraman struggled to get a rain cover over his equipment. I walked up to the park and met Josh and Alex who'd been spearheading the build since last March when lock down started here in Portland. We all gathered under a tree by one of the bowls in order to get out of the rain but it didn't help.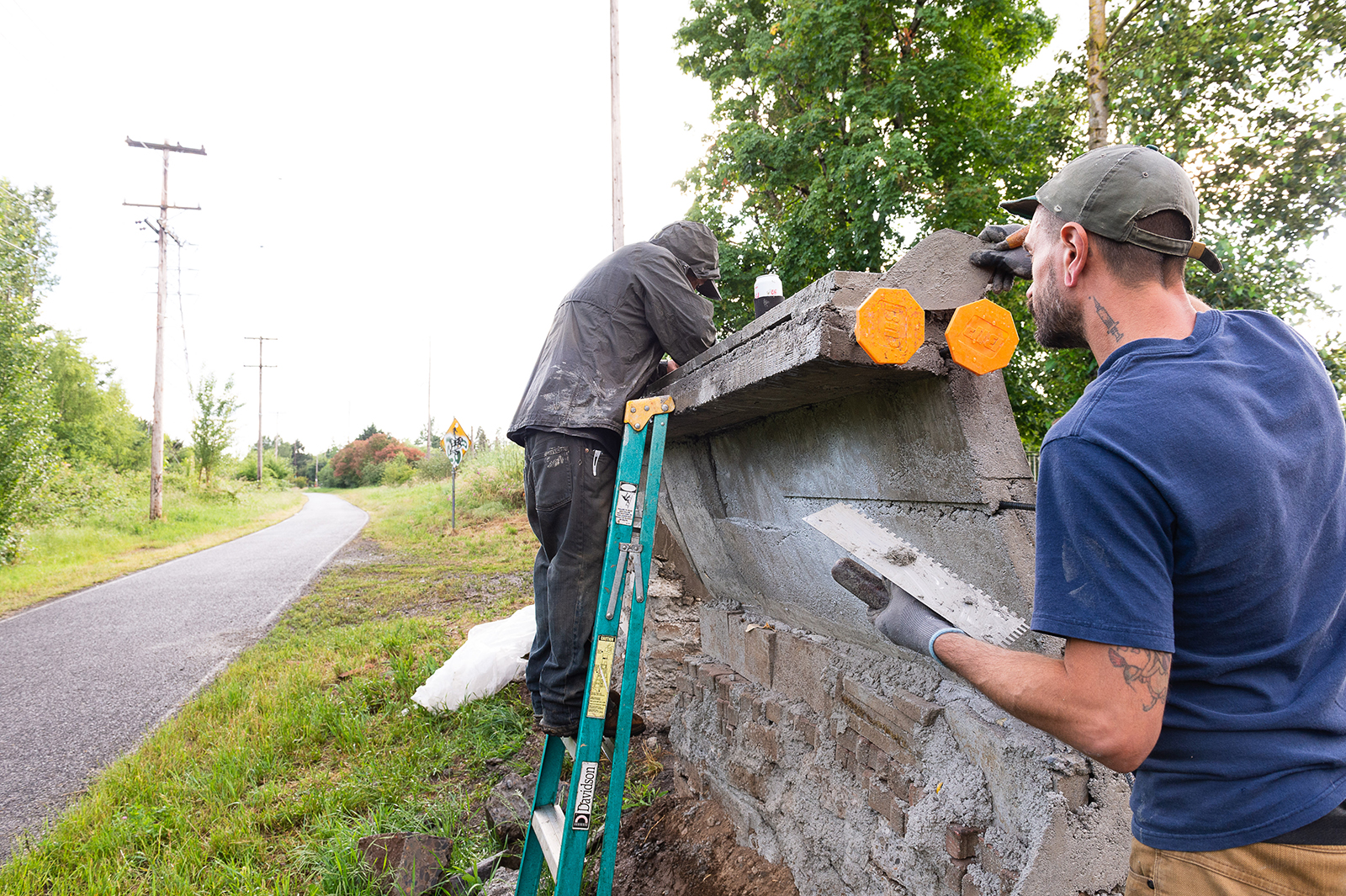 The vibe at the Cove is different from most DIY spots that I've been to. "My number one rule is no cool-guy shit," says Alex Janega, who has been helping build the spot for over a year. "If people want to ride scooters or bikes, we're not like 'Hey get out of here.' Everybody's welcome, you know, as long as you're recreating and having a good time." 
Like most DIY spots you can see a timeline of progress through the different sections of the park. After a little curb block and bank, there's a rough, shin-high bowl with chunky asphalt in the flat. Next, is a mini ramp with a closed off pocket on one end and a small bank on the other. The newest pour stands about 6 ft high and is larger than the other two sections combined. Once the rain stops Alex and the others get back to work mixing mortar and setting pool coping along the edge of the tallest side over a keyhole.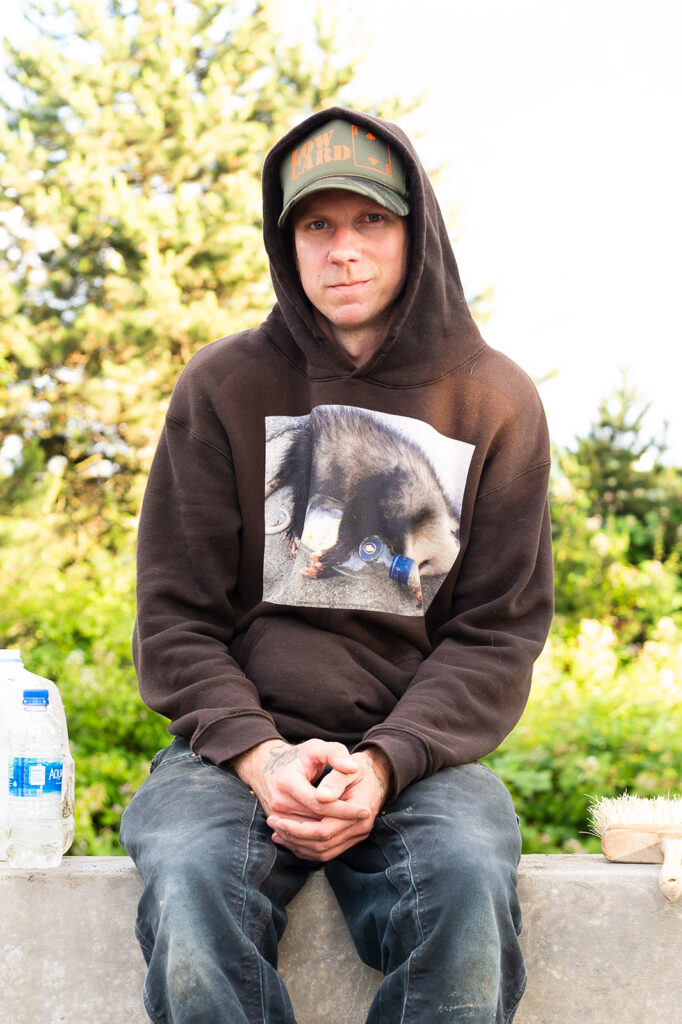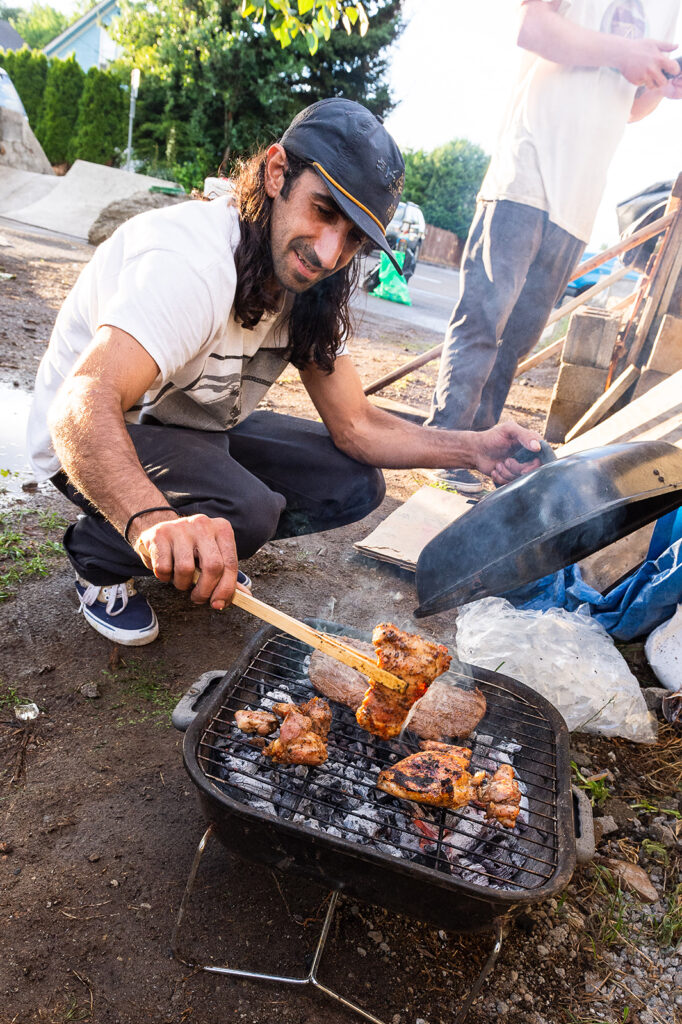 Josh, who's been cleaning up the area and building at the Cove for three years, says the pandemic shutdown made it possible for them to build the park into what it is today. "We knocked out the volcano, the big bank, the little banked roller quarterpipe, and this quarterpipe all before winter," he explains. "A lot of people have helped along the way. It's a community and it's awesome."
There's an unofficial neighborhood association in the area that's typically against anything that's not by-the-book, but they seem to be supportive of the project as well. They even planned a party and fundraiser for the park the Saturday after my visit. One member, though, has been vocally opposed. She told me that she's been filing complaints with the city for two years and worries about loud noises and kids getting hit by cars–the usual. But she seems to be in the minority. The two neighbors directly adjacent to the park both throw their full support behind it–one even provides a hose and water for mixing concrete.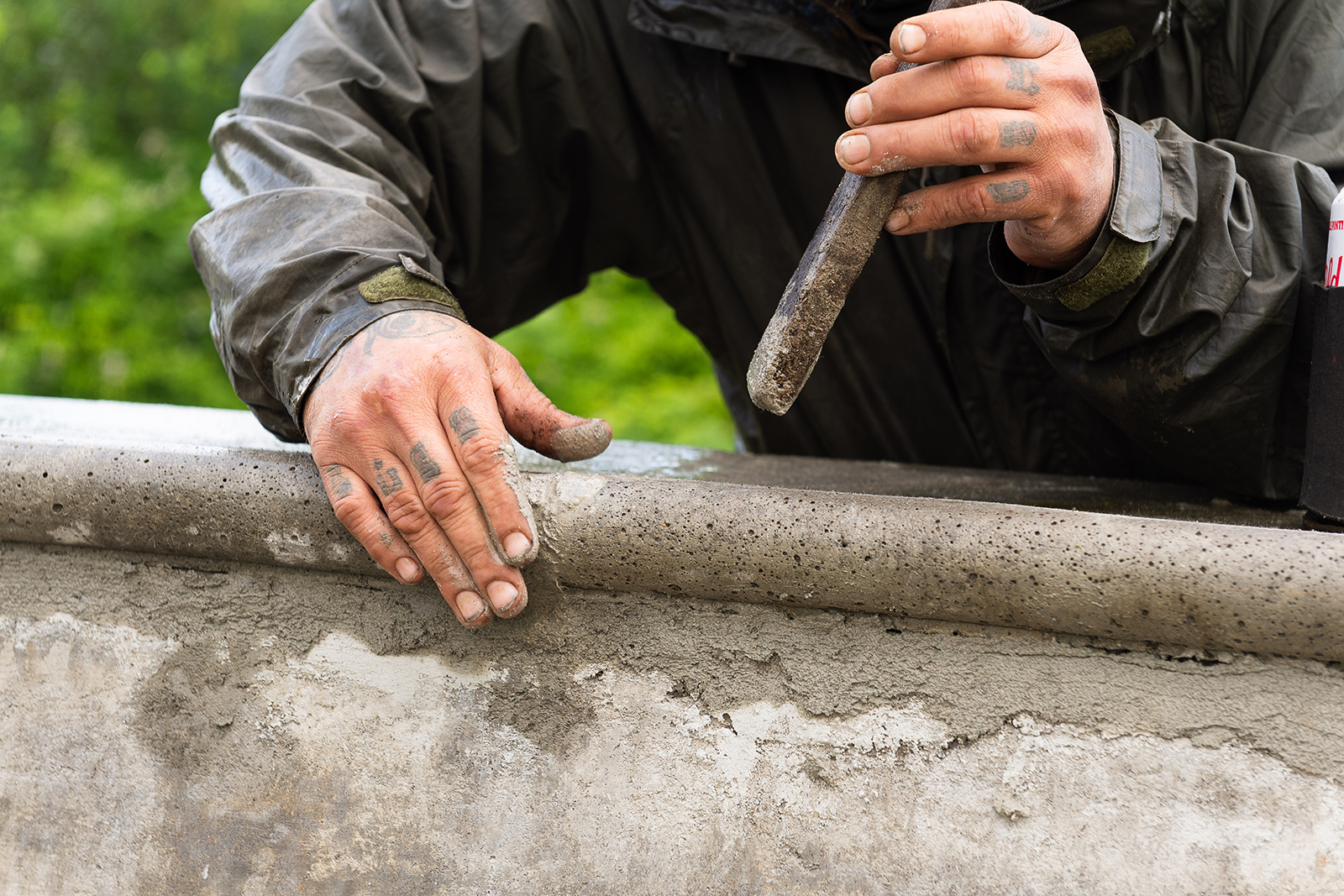 As the sun breaks through the clouds and the park starts to dry the news anchor emerges from their minivan and prepares to report from the street in front of the park. Someone arrives with charcoal and chicken thighs, and gets a small grill fired up. A cooler shows up with hard and soft drinks and someone dumps the ice in. A speaker blares a string of cover songs that no one has heard and everyone loves. The whole crew jumps into action mixing mortar, placing coping blocks, and smoothing the work around them. 
The bike path behind the park, the Springwater Corridor, is known locally for its quiet stretches of natural areas and growing community of unhoused people, displaced before and during the pandemic. This section seems to be just foot and bike traffic these days as people pass by on evening strolls. I recognize a couple kids from the neighborhood and say hi and ask if they skate yet. Not yet, but their older brother does and comes by all the time.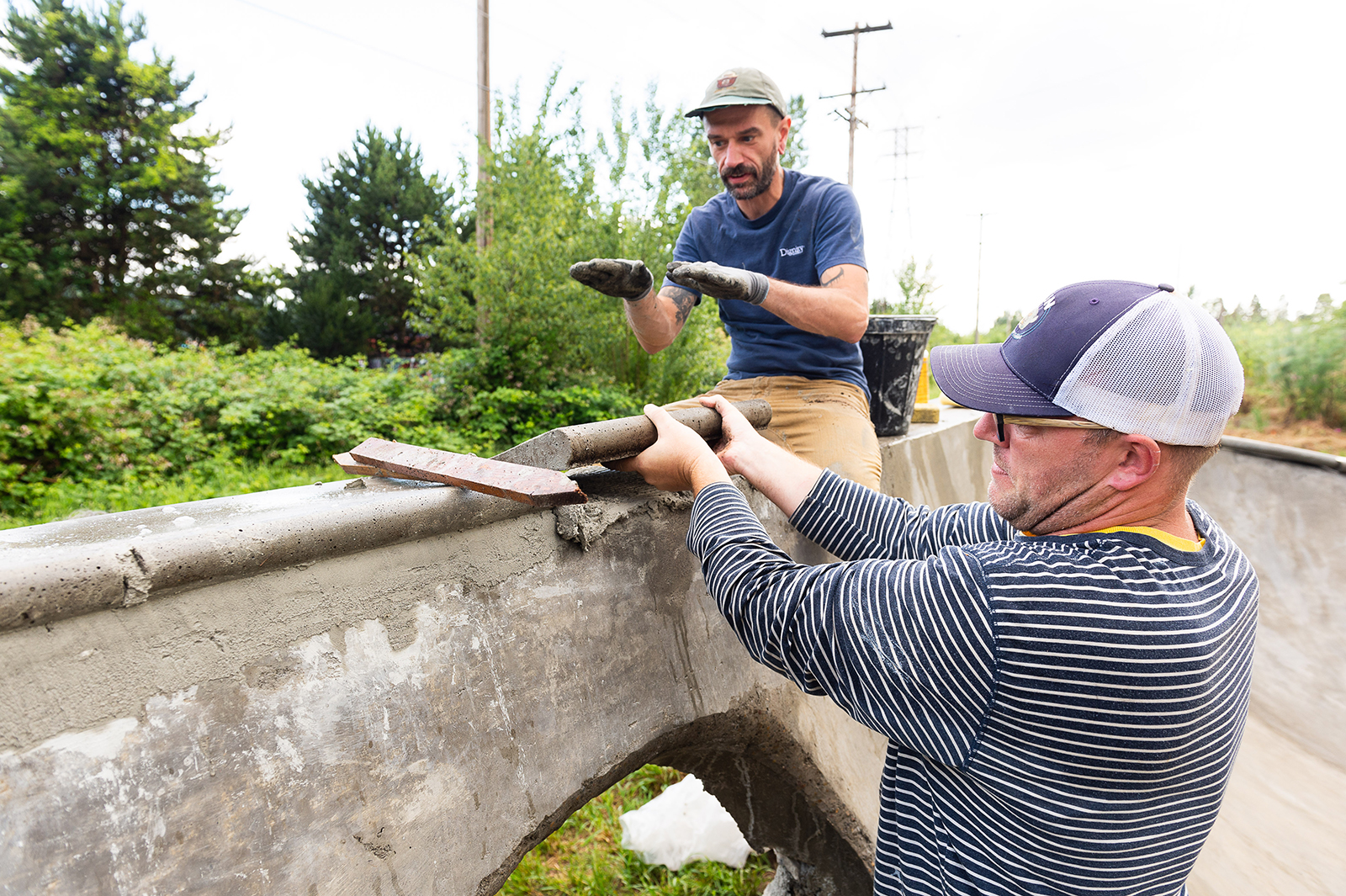 It turns out kids at the Cove aren't the morning scooter swarm and butt boarding brigade you might expect at other parks. "There's a lot of at-risk youth out here and it's like mentorship," Alex tells me, "and we do skateboard clinics for them." But it's not just skating. "They're asking questions. They wanna know about form work or how to finish concrete, how to trowel concrete. I've been sitting here before and teaching right triangle math and geometry to kids. For me as a carpenter my life is geometry, one big geometry problem over and over again, and I think when kids have a practical usage and a practical sense of mathematics, it makes sense to them." He says he sees a lot of himself and the people he grew up with in the kids that come to the park and wants to inspire a lifelong love of skating in them. "Skateboarding saves lives," he reminds me.
After a good stretch of coping was laid and the chicken was eaten up, the guys started to plan out where to set up their tents for the night. The sun was hanging low and everyone started to wind down. I left them there, hunkering down for a night spent defending their labor of love. I got word the following day that there were no current plans from the city to demolish the park, but there's no promises for the future. Feral Cat Cove is a community space that brings people together and pushes no one away. You can check them out and sign their petition to keep the park alive on instagram @feralcatcove. ◆