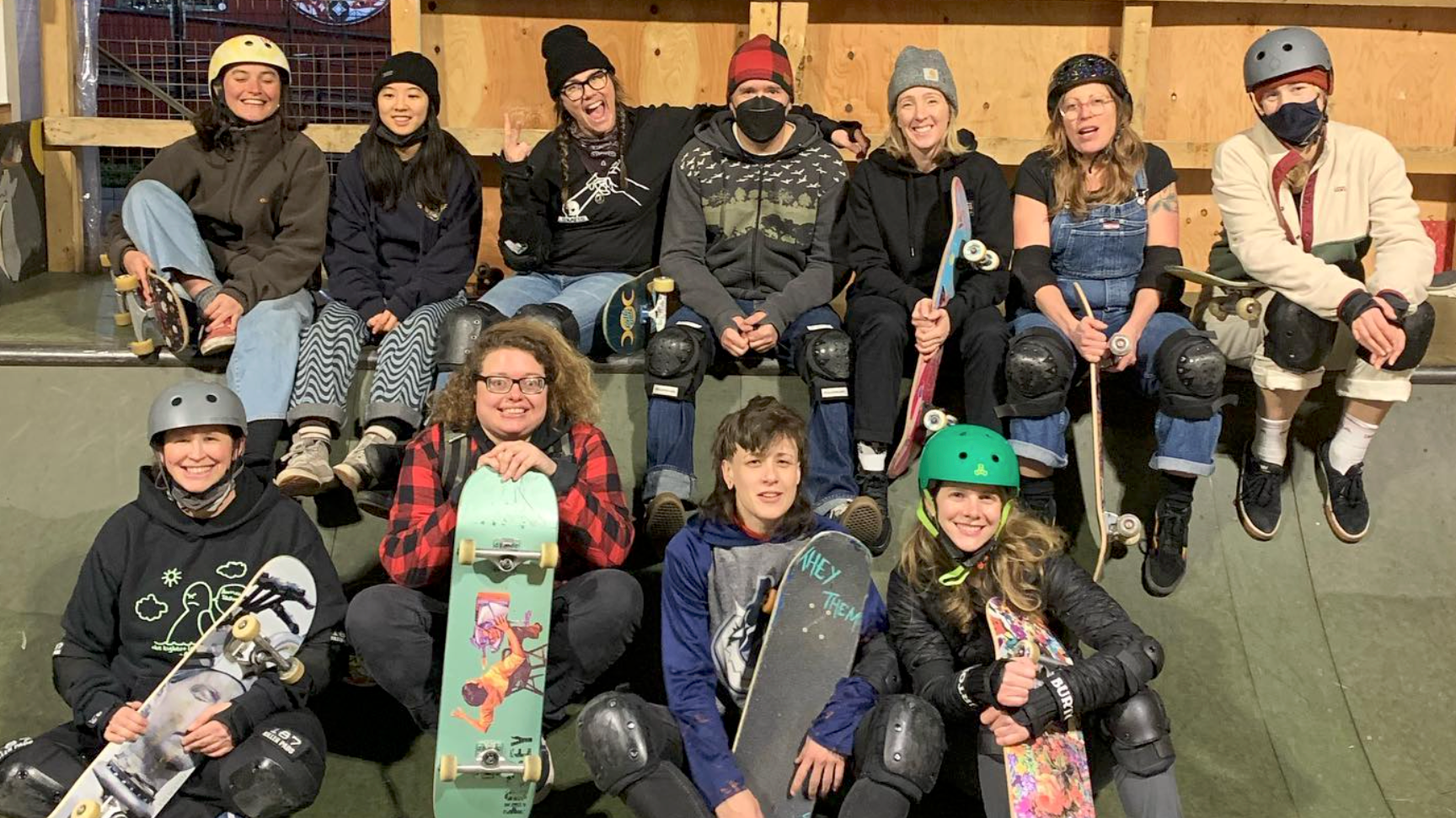 Their tongue-in-cheek name might turn off some, but we would definitely binge-watch The Real Hot Skatemoms of Vancouver (Bravo, give them a call).
Advertisements

The Real Hot Skatemoms started when popular Vancouver skate event We're Here had to pivot to having small group sessions due to Covid-19 safety protocols.  Founder Judy McLaren remembers Michelle Pezel turning to her and saying "this was your moment" and suggesting she organize a mom's skate session.  When those sessions quickly filled up (with a waitlist) Judy got excited about the prospect of growing a crew of "later skaters" because up until then she wasn't seeing people her age out skating.
"I was like where has everyone been?  It was like balm for my heart."
The reality is that the name came to be the way the best things often do, sitting around with friends after a killer session, shooting the shit, and thinking maybe naming your new skate crew after a reality TV phenomenon would be funny.
Crew name:
The Real Hot Skatemoms
City or region?
Vancouver, B.C., Canada
What do you do?
We are an inclusive skate crew of 'later skaters' who are helping to change the social ideologies around age and ability in skate culture by showing up and having fun. 
Where do you meet?
We meet up at all different parks but mostly we can be found mid-morning at Leeside or Bonsor skateparks.
How did you start?
Last International Women's Day I hosted a "Mom's Skate" session and I was so shocked that it actually filled. After years of my board collecting dust and being intimidated to show up in all my pads at 40+ by myself to skate, I was like – 'Who were these people and where have they been?' It was an amazing turn out. Afterwards, people were messaging me asking when the next session would be.  I couldn't believe it! It's been one of the very best things to come out of this pandemic.
Can you share a story or favorite moment from a meetup? 
Oh wow, I feel like every time we meet up something good happens. Everyone is so individual, one of the many reasons why I love skateboarding. But seeing your later skater friends commit, fall, and get back up with a smile on their face, encouraged by the stoke surrounding them, that's everything. 
How can people get involved/support you? 
We post our meetups in our IG stories. Follow our IG page @the_real_hot_skatemoms or shoot us an email anytime. Winter is really wet here so we gather when we can,  but in the spring and summer months we meet up a couple times a week! 
Anything else you want us to know?
I'm a mom, and our collective is made up of many other parents too, but we welcome all people. We are a safe group for all abilities and while we aren't 'skate instructors',  I'm happy to get ya started and always down for lending a set of hands. So if you're a parent at a skatepark sitting on the side staring at your phone while your kid skates,  put it down and join us!
CONTACT THE MOMS AT: