Popular Ladies Night skate gatherings have established the Crete Creeper's presence in Reno and South Lake Tahoe since 2018. And when a founding member moved 2,000 miles away to Jamestown, NY last year the momentum didn't die out- it just got… creepier.  Get to know BIGFOOT's first COAST-TO-COAST CREW and get rowdy with them at one of their upcoming meet-ups.
Advertisements

EAST COAST January 15th at 3pm Jamestown Skate Products.
WEST COAST January 26th at the Skatehouse in South Lake Tahoe, CA (starts at 5pm ladies shred until close!)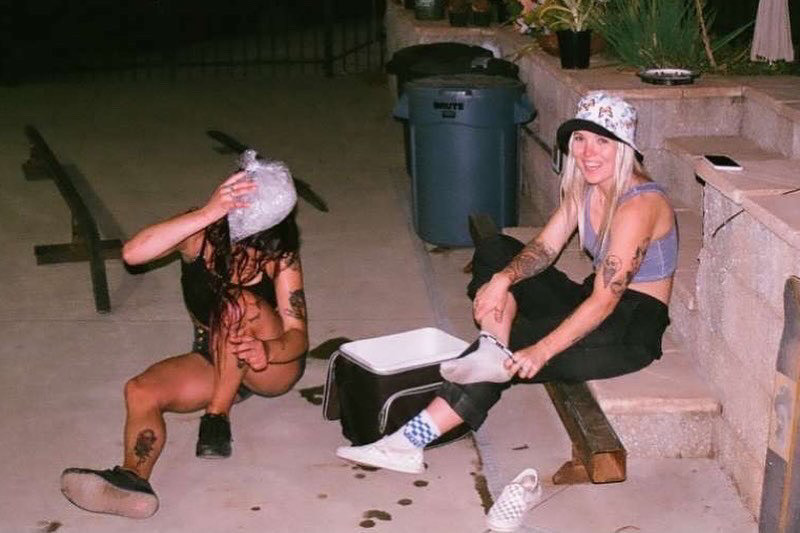 Crew name: Crete Creepers
City or region? Northern California, Lake Tahoe/Reno area to Western New York.
What do you do? We organize ladies skate sessions at a couple different indoor bowls and backyard DIYs.  We bombard local parks with our feminine energy at meet-ups between Northern California, Nevada, and New York. We get rowdy, skate hard, and have fun wherever we go. 
Where do you meet? Skatehouse in South Lake Tahoe, Phatman Boardshop & Jamestown Skate Products in Western New York.  We're also often at the buddies' backyard spots in Auburn, CA & Reno, NV.
How did you start? It all started in 2018.  Abby, one of our co-founders, moved to a house in Reno called "Pettits" that had a gnarly pool in the backyard.  Meanwhile our buddy Marcus had his own DIY spot in Reno called "The Orchard".  She decided to do ladies skate nights alternating weekly between the two backyards.  
Reno ladies started to attend as well as the Tahoe skate gals and that's how we ended up combining forces with ladies nights at Skatehouse in South Lake Tahoe where Fizz was holding skate nights along with Whitney.  Everyone met, skated, and befriended one another.  We started doing meet ups at skateparks along with the ladies nights.  
After 2020 the group really blew up so we started an Instagram.  Then in 2021, Abby moved to Western NY and began having Crete Creepers sessions there as well.  Jacqueline and a couple other girls still hold it down in Reno and Northern CA.  Now we are coast-to-coast and trying to make the most of it.  
Can you share a story or favorite moment from a meetup?  One of our wildest sessions was at The Orchard in Reno a couple summers ago.  The Lowcard Ladies came down to session it with us after seeing clips of a ladies night a couple weeks prior.  There were thirty or more ladies there, all together in this rad backyard, tunes were blaring, bottles popping, and lots of cackling to be heard.  It was all-out insanity.  Ladies were absolutely ripping and everyone had a great time.
How can people get involved/support you?  Follow the Insta, check out our new merch. (Link in bio.) and send us your clippys.  @crete_creepers & cretecreepers.bigcartel.com