Tia Pearl took the Gold at the first-ever Women's Adaptive Street Finals at the 2021 Dew Tour for a run that included a kickflip, rock to fakie, and a layback powerslide.
Advertisements

At the time of her winning run, Pearl said "I hope somebody seeing this contest gets the same spark of freedom I got when I first saw skateboarders and decided to try it: I call my skateboard a rocketship because I don't know how it's so magical or where it might take me."
She found her "rocketship" (deciding to come over from the dark side of aggressive in-line skating) when her Nana told her if she got a good report card she would buy her a board.
"That Mongoose Walmart board changed my life and I fell in love!  I was hooked.  Skateboarding gave me so much freedom and adrenaline. I knew I would never stop skating."
A little bit later her mom took her to get her first pro board (on Valentine's Day).  Tia chose a Blind deck with Tensor lows, lucky 5s and World Industries wheels and she and skateboarding have been together ever since.  
"No experience is a bad experience.  Iit might feel that way at the time but really it's a success because you learned something from it!"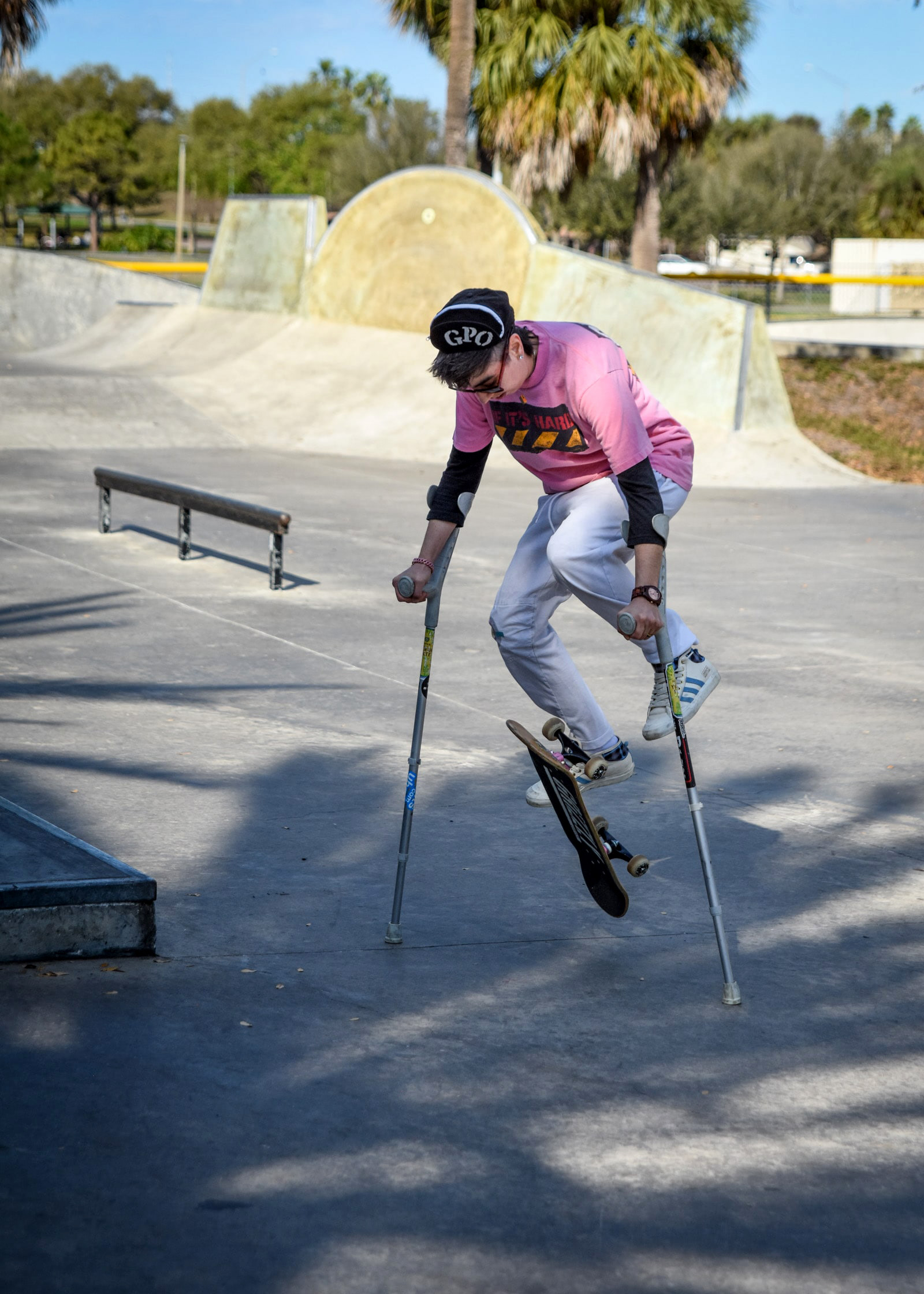 Name- Tia Pearl
Age- 32
Pronouns- She/Her
Hometown- Hickory Hills, IL
Current Location- Savanna, IL
Day job?- Sustainable Organic Farm Owner/Operator.
Signature Trick- Varial Kickflip or Layback Powerslide on flat. 
Catch Phrase- Stay Happy, Feel Rich
What is the last thing you saw that made you laugh really hard? GB from @GBandMe on TikTok has me rolling on the regular haha.
Favorite tattoo or something else cool about you?- Ghetto Blaster (Boombox) on my right shoulder.
Three things you can't live without?
Skateboarding, chickens, and music.
What are you most proud of?  Following my dreams no matter what card I was dealt. Getting invited to Dew Tour and taking the gold in the first-ever adaptive competition. We made history that day and I'm so grateful that I was a part of it. 
What else do you want us to know?  I love being able to represent for the adaptive women of the world. Our division is still growing and the more I can share my love for skateboarding daily but also in a competitive way-the more people will see it happening and get out here to enjoy the fun!