Friends, family and rippers all gathered at Stoner Park Plaza in Los Angeles on Sunday March 6 in support of DC Shoes first annual women's skate contest. Held a couple days before International Women's Day, about 15 femme skateboarders shredded the three different segments in the jam with big smiles and contagious laughter.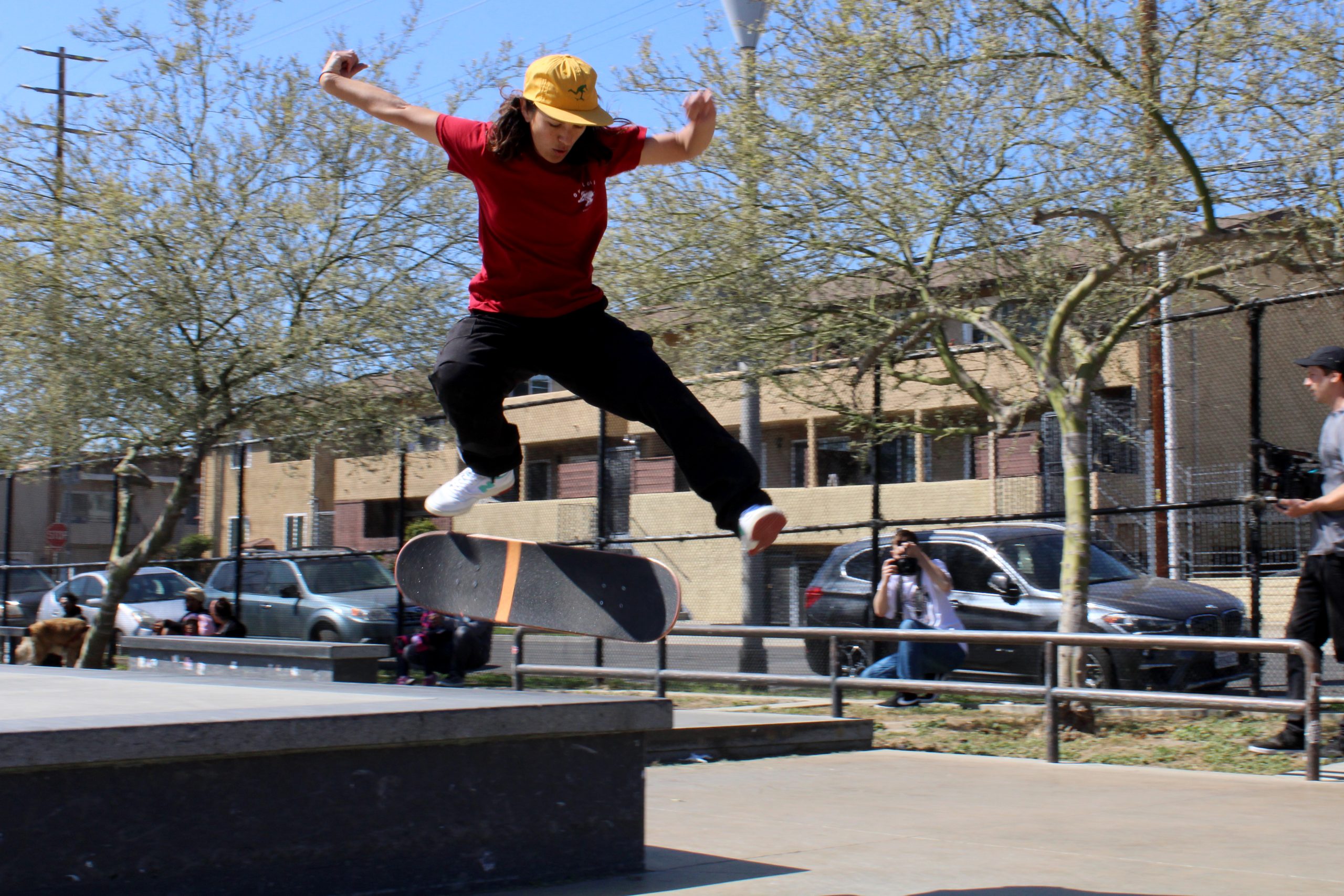 The 27-year-old brand started marketing toward women a decade ago, and although there is currently no official pro team, the brand has several amatuer riders on flow. Brooklinn Khoury, of Brooklyn NY, became involved with DC in March of 2021 and was excited to talk about her experience with the company.
Khoury, who also rides for the clothing brand Hundreds, mentioned that DC was extremely welcoming and supportive of her and the other skaters who receive gear. After the jam, Khoury shared some advice for the women and girls who may have been too intimidated to come out.
The pro skater and fashion model feels that the sport is still largely male dominated and female-focused skate events are crucial for increasing the representation of femme skateboarding.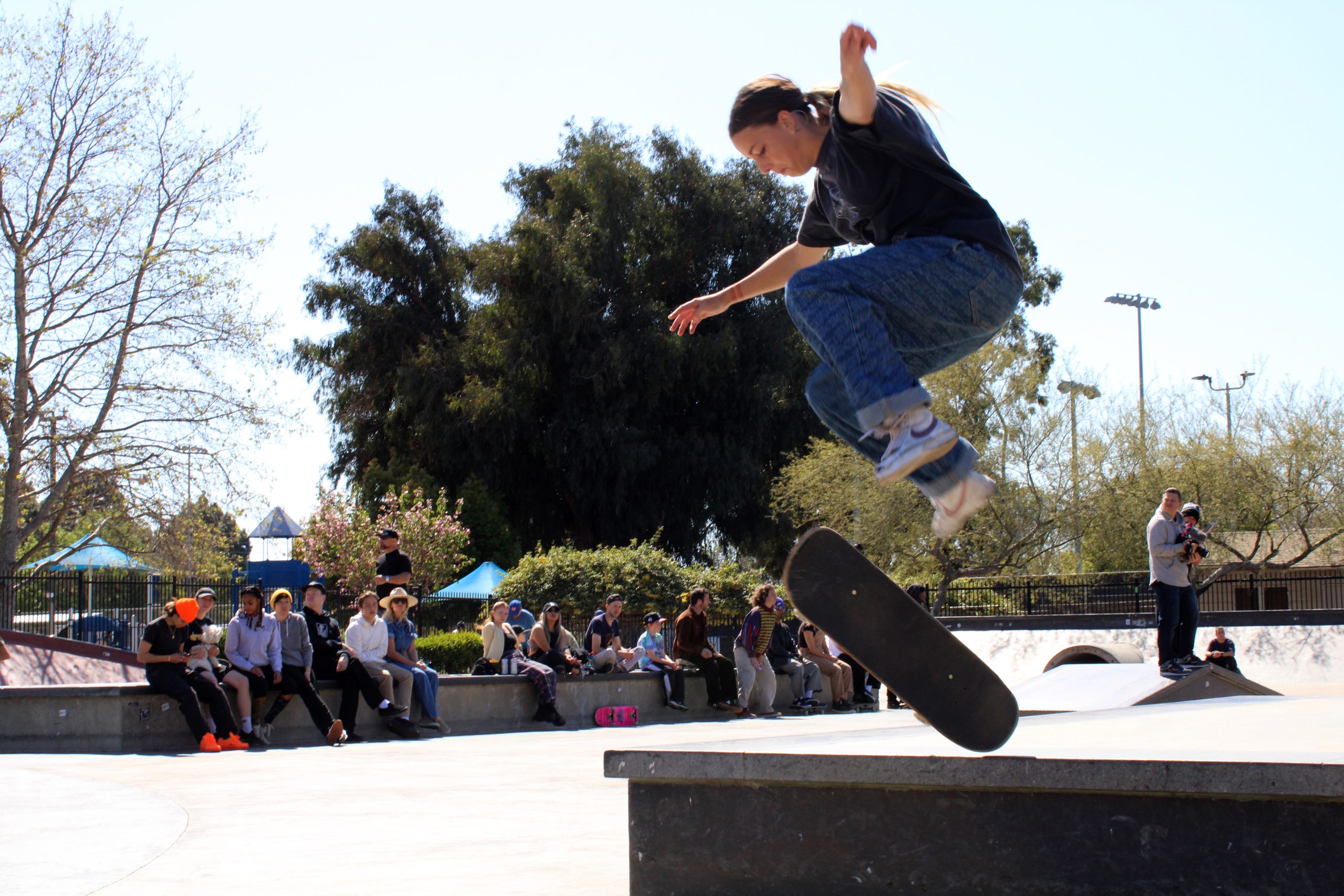 Jaden Hummel, who has been skating for three or four years and has participated in a skate jam once before, came up from San Diego to watch the event and support some friends  in the jam. Hummel is excited for more events like these to happen, so femme skateboarders have more opportunities to come together and shred. She mentioned the importance of not only showcasing women in skateboarding, but the variety of levels of expertise. Beginners and ams skated alongside pros, with an equal level of hype throughout. 
"Everyone threw down today, and there were so many different levels," Hummel said after the event. "When I was watching, there were some people who were way out of my league, and then there were some other people where I was like, 'Oh, I could do that.'"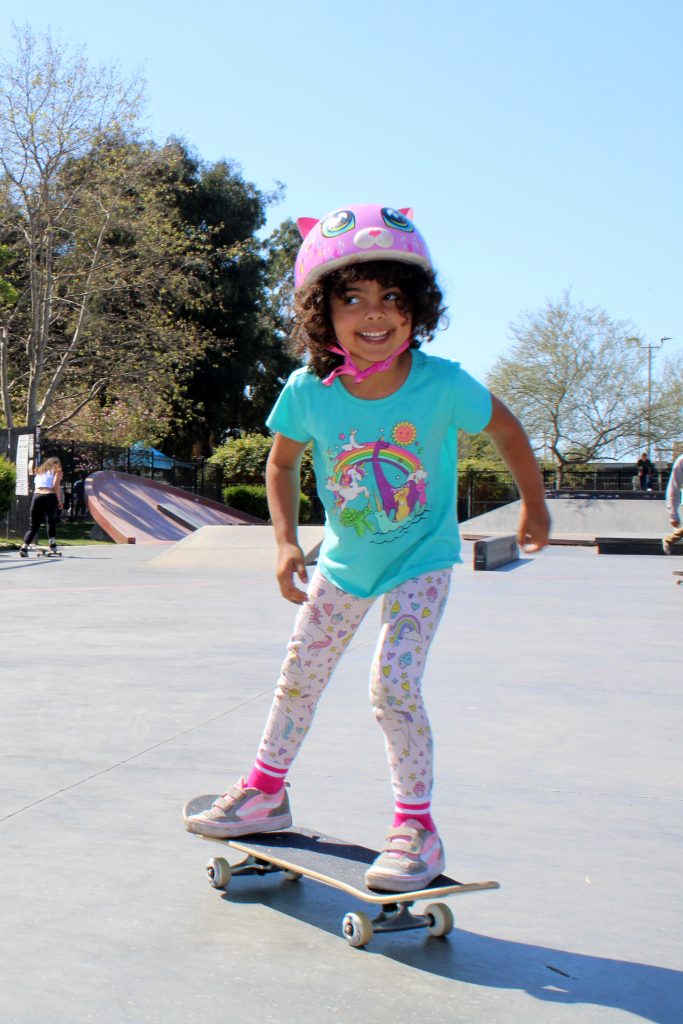 Skylar Chadwick, who skates for Santa Cruz Skateboards, decided she wanted to participate after seeing the flyer on Instagram. She was stoked to see over a dozen women and girls participate in the contest.
Chadwick walked away from the quarter-pipe segment with a $300 cash prize after a steezy backside revert disaster. But her goal wasn't to win money — to her, these events are really just about rolling around and having a good time.
The southern California native mentioned that skating with more people over time helped her get over any nervousness she would feel around competition.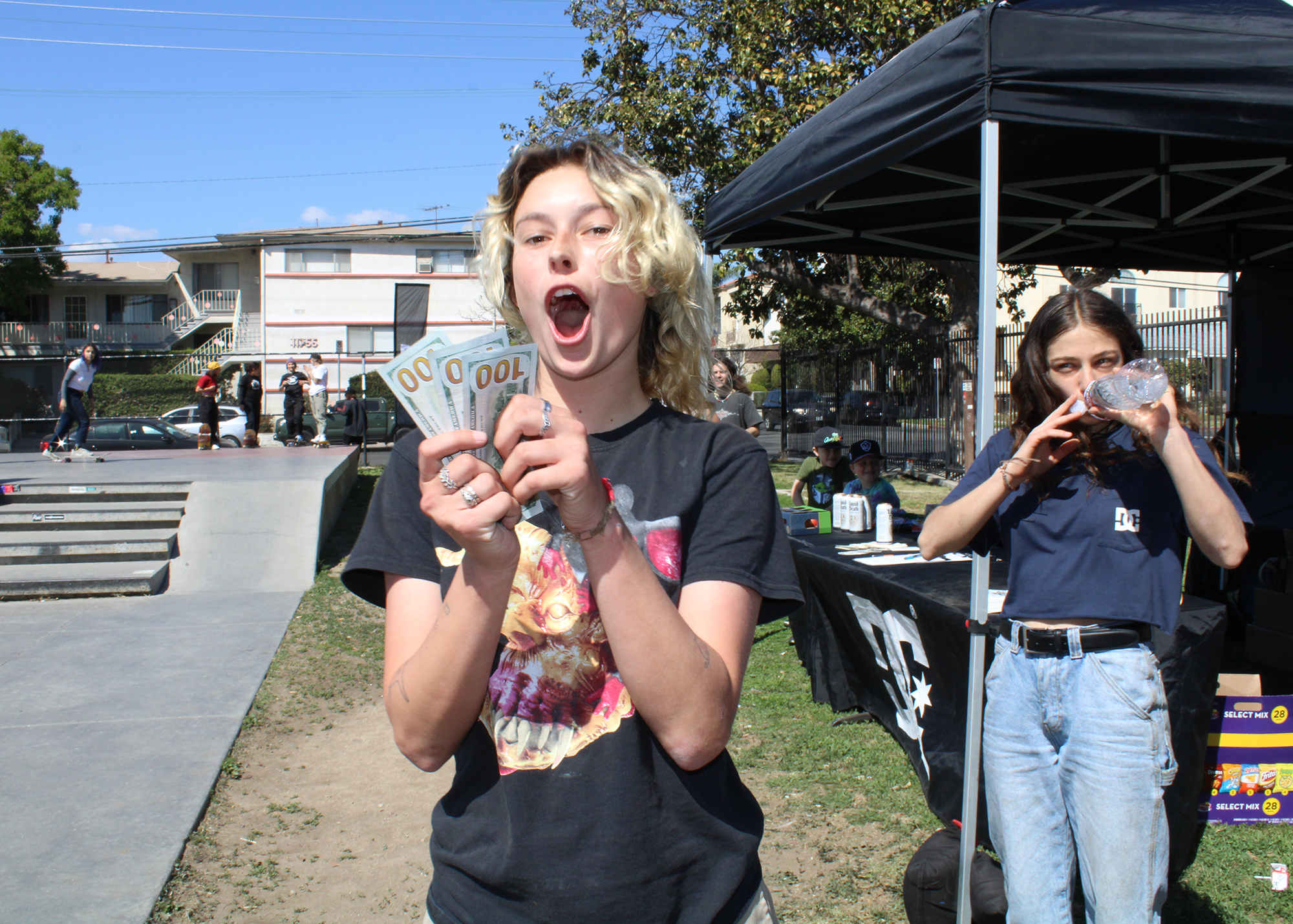 DC team manager John Gardner, who helped organized the event alongside the marketing team, hopes for more girls to show up in the future. 
"It's like any seed that you plant- the more you tend to it, the more it grows," Gardner said. "So if we did more of these events in more places, I think more women would show up and you'd see all of the talented female skaters out there."
Gardner was on DC's men's skate team for 16 years before becoming team manager around 2019. With more power to foster a more supportive community, Gardner hopes watching the ladies rip will motivate more people to skate.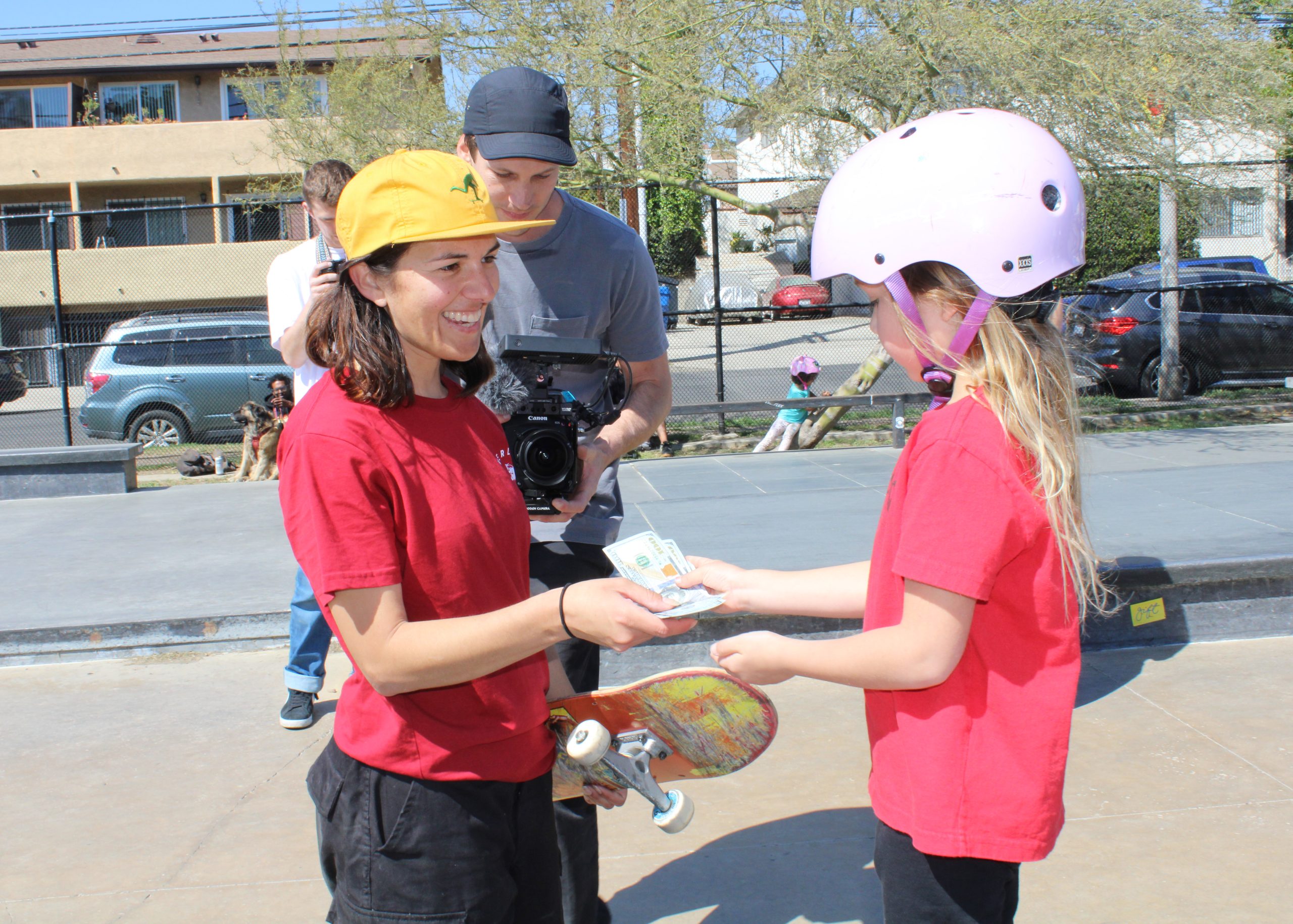 DC gave $20 bills to participants after successfully landing a trick, $300 cash to the winners of an entire segment, handing out a total of $1500 total by the end of the event. Rippers switched off between launching off a stacked manual pad and airing the gator gap for the second chunk of the jam, and the finale centered on a longer and lower manual pad, rails and ledges.
Isii Campos won the second segment with a 360 boness off the manual pad and 180 boneless over the gator gap, and Amanda Castillo was victorious in the final round after a kickflip backside tailslide.