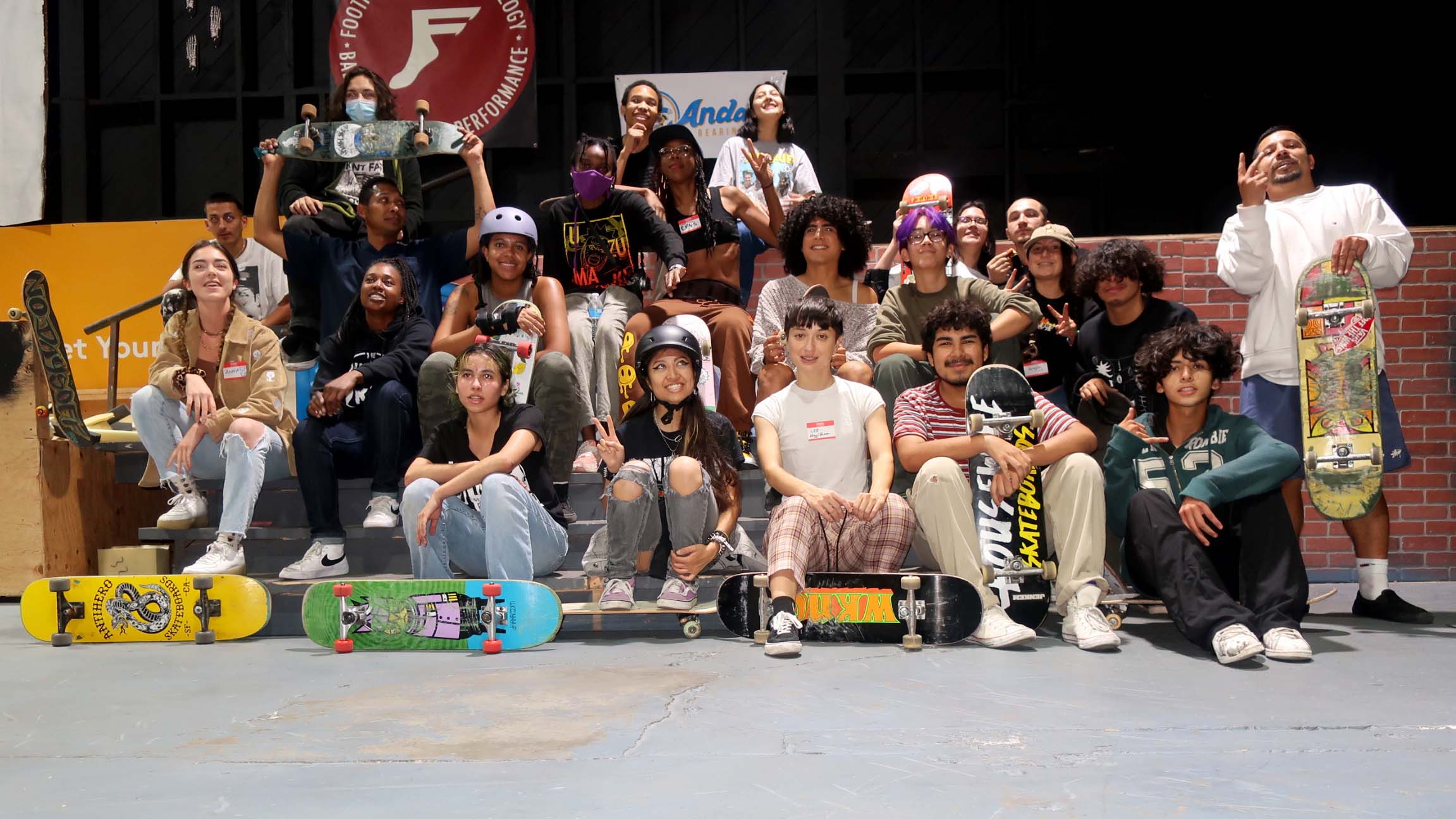 PHOTO: Angela Banda @_whodaheck_
It might be December, but this isn't Sk8 N Meet Santa (although here in Pittsburgh that's a totally RAD thing you can do in non-COVID times). But the name isn't referring to the jolly harbinger of the late-December Capitalist holiday OR the guitar legend that also responds to "Carlos." It refers to Orange County community, Santa Ana.  And, founded in 2019, this crew is inclusive and non-denominational.  Also- collaborative! We we're psyched when we heard that Meet Santana recently teamed up with our October COTM Board 2 Tears to host a "Skatesgiving" event at LA Skate Club that produced a 100-item seasonal donation to the Los Angeles LGBT Center. We needed to meet Santana! (And hopefully SK8 with them soon too.)
Crew name: Sk8 N Meet Santana
City or region? Santa Ana, CA.
What do you do? We create a safe space for skaters who identify as female, queer, trans, and/or nonbinary.
Where do you meet? We meet in LA and Orange County at our monthly skate meetups.
How did you start? Our founding member, Dorian, wanted to skate with others that she related to and felt comfortable with while also providing a safe space for them to explore skateboarding (circa 2019). 
Can you share a story or favorite moment from a meetup?  In the early days of our group, we had a chance to skate with some of the girls from The Skate Kitchen at El Sereno Skatepark in LA for a meet up hosted by Briana King. Nina Mo of The Skate Kitchen taught our member Angela to ollie over a skateboard for the first time. It was a very exciting experience for our group.
How can people get involved/support you?
TikTok @sk8_n_meet_santana
Anything else you want us to know?  We're always open to meeting like-minded skaters and collaborating for future events/meetups. All wheels and levels welcome as long as the space is respected. Join us at our next meet up and bring friends!