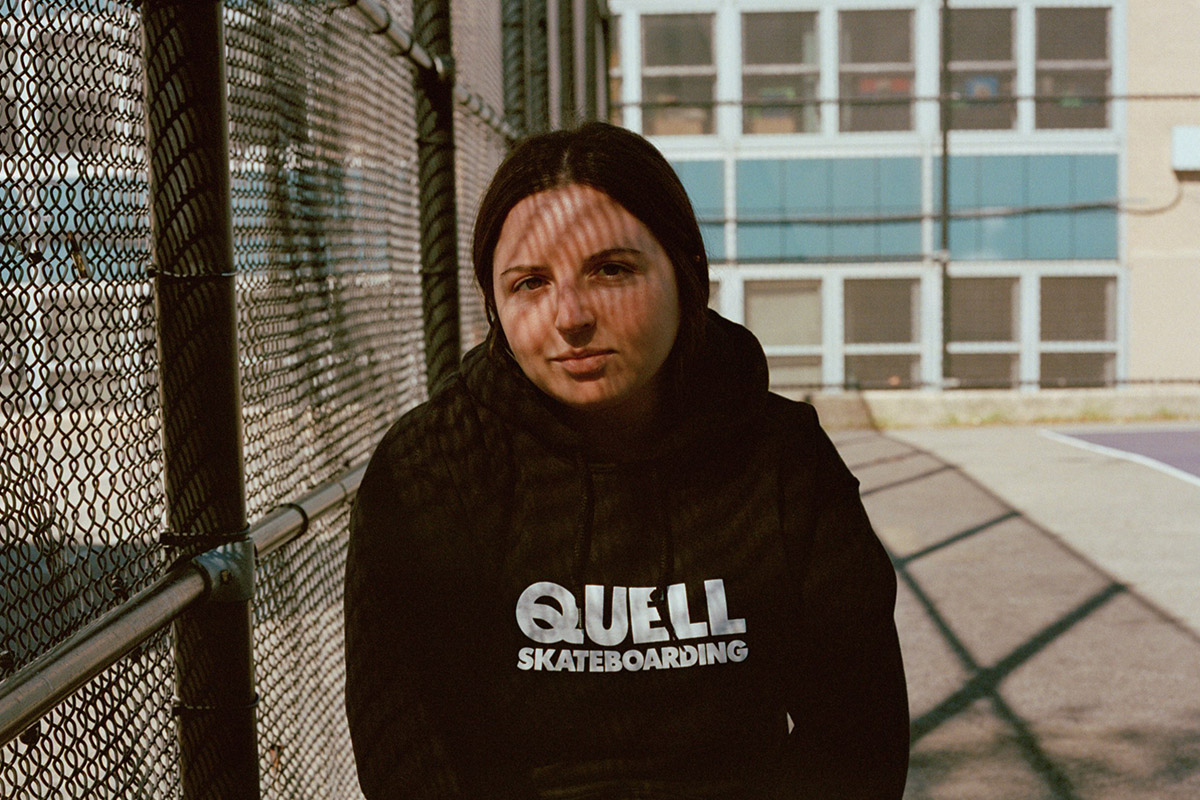 Adrian Koenigsberg is designing the future of non-trad skateboarding
From Check it Out, to SG, to Villa Villa Cola, there have been several valiant efforts throughout history to raise exposure of women in skateboarding, all founded with some unifying similarities; passion for skateboarding & women's tight squadron within, and the ardent belief that we have a place here. Unfortunately a similar thread is that these projects have wrapped relatively thanklessly due in part to a lack of substantial support from industry titans, causing the log jam of women's skateboarding to continue. Low industry interest ? lack of resources ? minimal exposure ? less women riders ? low industry interest… the cycle continues. It doesn't take a wizard of business to decipher.
Most of the individuals involved in media projects of yesteryear have moved on; the potential for a career is basically nonexistent and eventually, you know, you gotta eat. But meanwhile, thanks to leaders like Kristin Ebeling aka the "Katniss Everdeen" of skateboarding and others, as well as lurches forward in popular culture, more opportunities are opening up for women to chime in. However, some things remain the same. That passion & belief in the future is still required and resources remain limited. Founder & Director of Quell, Adrian Koenigsberg has that optimism as well as the talent and intelligence to help make shit happen.
At only 25 years old, Adrian works full time as a graphic designer at an NYC creative agency and spends her spare time building on the Quell brand. More than simply a bi-annual print magazine, Quell is a full on media company that includes a podcast and event production. One element that people outside of media might not fully realize is that it takes a lot of strength and a thick skin to put your voice out there. Many people at her young age don't possess that level of maturity. But Adrian Koenigsberg ain't no basic bitch. Her important contributions to the bright future of non-trad skateboarding has just begun.  -Migz
You started this project during college. What were some of the early challenges you faced? Who were some people that backed Quell from the jump?
Yeah, I started Quell as my senior thesis. I really didn't see any visibility for women skateboarders and thought that I could use graphic design to develop a platform to share these stories. I didn't really start working on Quell as a business until a couple years afterwards when my job was at a stall. I think as we first started I really just started to direct message people on instagram and see if they'd respond. I think in general that's a huge piece of advice I give to people – don't be afraid to message anyone, the worst that happens is they don't answer. I think I really got great support from the Girls Riders Organization initially. It was awesome to speak to Courtney and Katie who worked with GRO at the time, and get a lot of great advice and feedback. Amy Ellington from KCDC also was a big supporter in the beginning. I also can't forget to shout out Late Skate, a skate crew out in Brooklyn for literally coming to our first event.
A mission of Quell is to be inclusive to skaters of all ages and abilities. How have you linked up with people to feature that maybe aren't as well known? Have you met people at the skate park or reached out on the 'gram?
I think really everything stems from an in person conversation or on instagram. I have met a large group of the people I look up to by attending skate events, specifically Wheels of Fortune out in Seattle. But otherwise it's really just being in the right place at the right time. Skateboarders- no matter how big- are just people who like the same things you do. We all have common ground through skating, so it's easy to make connections through just talking to people about what we both love.
You work as a designer at an Agency 40+ hours a week. When and where do you have time to work on Quell? What have you found that helps you out productivity-wise?
Yeah, it's been very difficult in this Quarantine to really balance everything. I just make time though. If you really want to work on something you do, you can't pretend to work hard at something. Really running this business is so hard – it's instagram, organizing stories, merch, production, emails. It's just so important to me that I really make it happen. Productivity wise – I make a lot of lists. I listen to a lot of podcasts while I'm working. I also have a social media manager that I really truly appreciate, Johnna, they really help me and hold it down.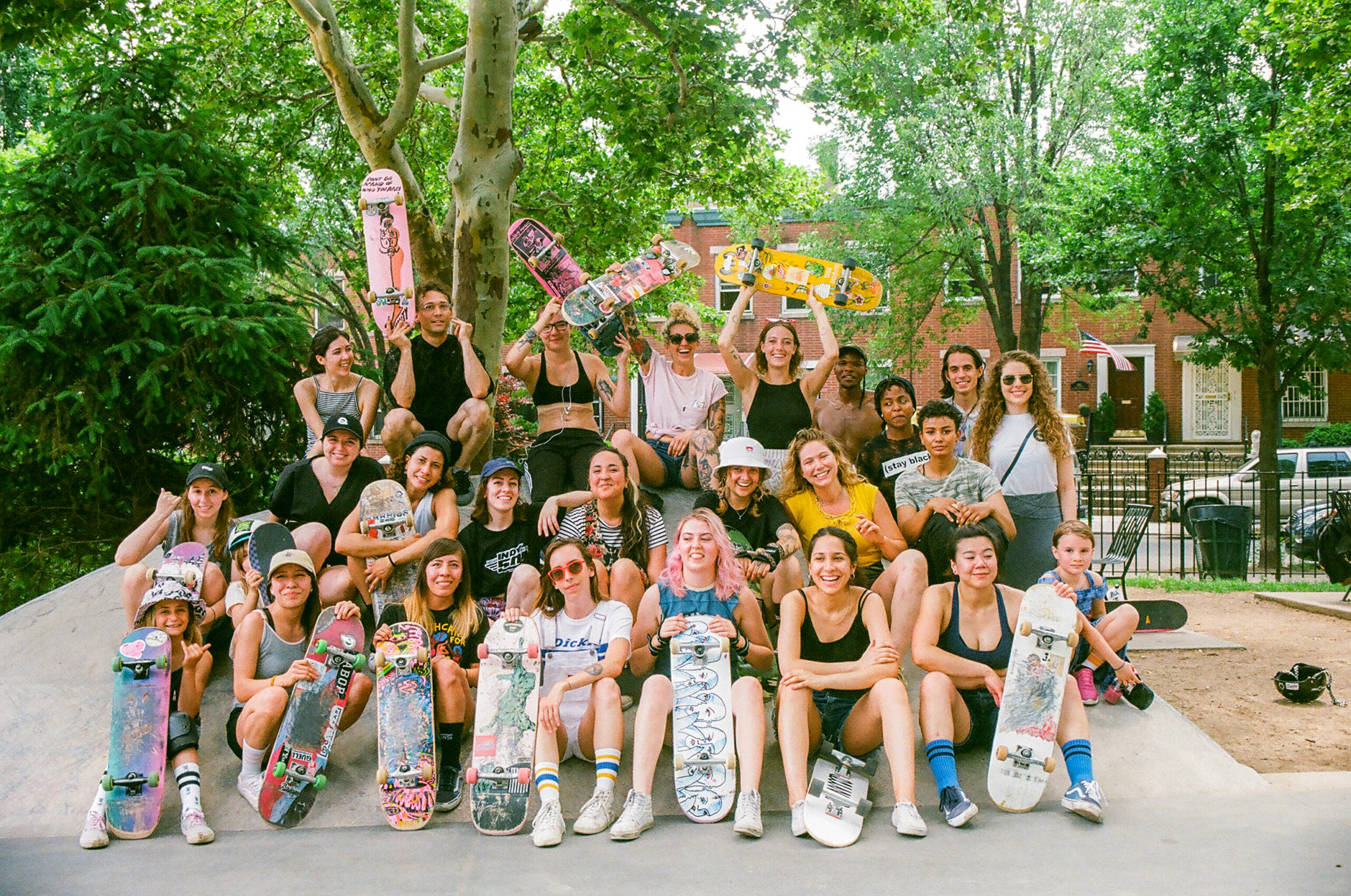 How have the events of 2020 affected Quell? Have you had to pivot your focus or change strategies? What are your goals for the remainder of the year?
2020 has been really challenging. In terms of COVID – the beginning was going amazing and I think we had a lot of momentum moving forward into the year but covid really threw a wrench into everything. I can't really complain because I am healthy and this isn't something anyone could have predicted happening globally. 
With the Black Lives Matter movement – I really believe we have always been foundationally inclusive to under-represented groups, race or gender related. I just think moving forward I personally want to ensure we include resources and language that supports and informs our audience. We have a platform and I feel responsible to utilize our audience. I also want to start developing ways to donate to causes – whether it be a percentage of our merchandise, specific shirts or even just having voter registrations at our events.
What are some of your longer-term goals for the future of Quell? And what are your hopes and/or projections for the future of skateboarding?
Honestly, it's really hard to say because there really is no specified "reopening" of this country. I mean COVID aside, I really want to start developing more consistent beginner clinics with Quell and partners. I want to normalize learning how to skateboard at any age and take away some of the fear that many women over 20 have approached me with. I think we really do that as Quell, and I once again have people like Johnna to thank, but I want to start developing that more consistently. I want to continue our magazine coverage and amplify our web coverage as well. I truly want to just continue to give a space and a voice to our non-traditional skateboarding community.
I also want the future of skateboarding to reflect what socially is happening in the world. There have been a lot of stories and issues around race in skateboarding – and I want to be that open and safe place to share. My point of view is to kind of ignore bias – or how other media platforms do what they do – and just tell what I want to tell. Publishing these stories really normalizes what the reality of skateboarding is. If you don't see a reflection of your own story or yourself in the community, it gets difficult to feel included. 
So long story short, my hope is that we start to shift the narrative of the stories we tell. Look around, we need to be reflective of the communities we skate in and live in.
What advice would you give younger women who are interested in the media side of skateboarding? What kind of opportunities are there for people to get involved with Quell?
Otherwise, honestly I don't have a true journalist background. I think storytelling is really about finding a connection with someone or something and tapping into questions that tell that story. This idea can be reflective in merch, in photography, it doesn't just have to be a Q+A interview. Just think about how you want to tell a story and get creative with it. Read stories or features that inspire you and think of ways you can develop those ideas into your own stories.
From my own personal experience, skateboarding NEEDS women and non-binary photographers and filmers. I really struggle to find people to cover events and shoot stories for us that reflect the people we're featuring. If you're reading this and are interested literally email me at adrian@quellskate.com or DM us. I am also super open to hearing how people want to be involved in Quell, so if people are interested, I always welcome people to reach out.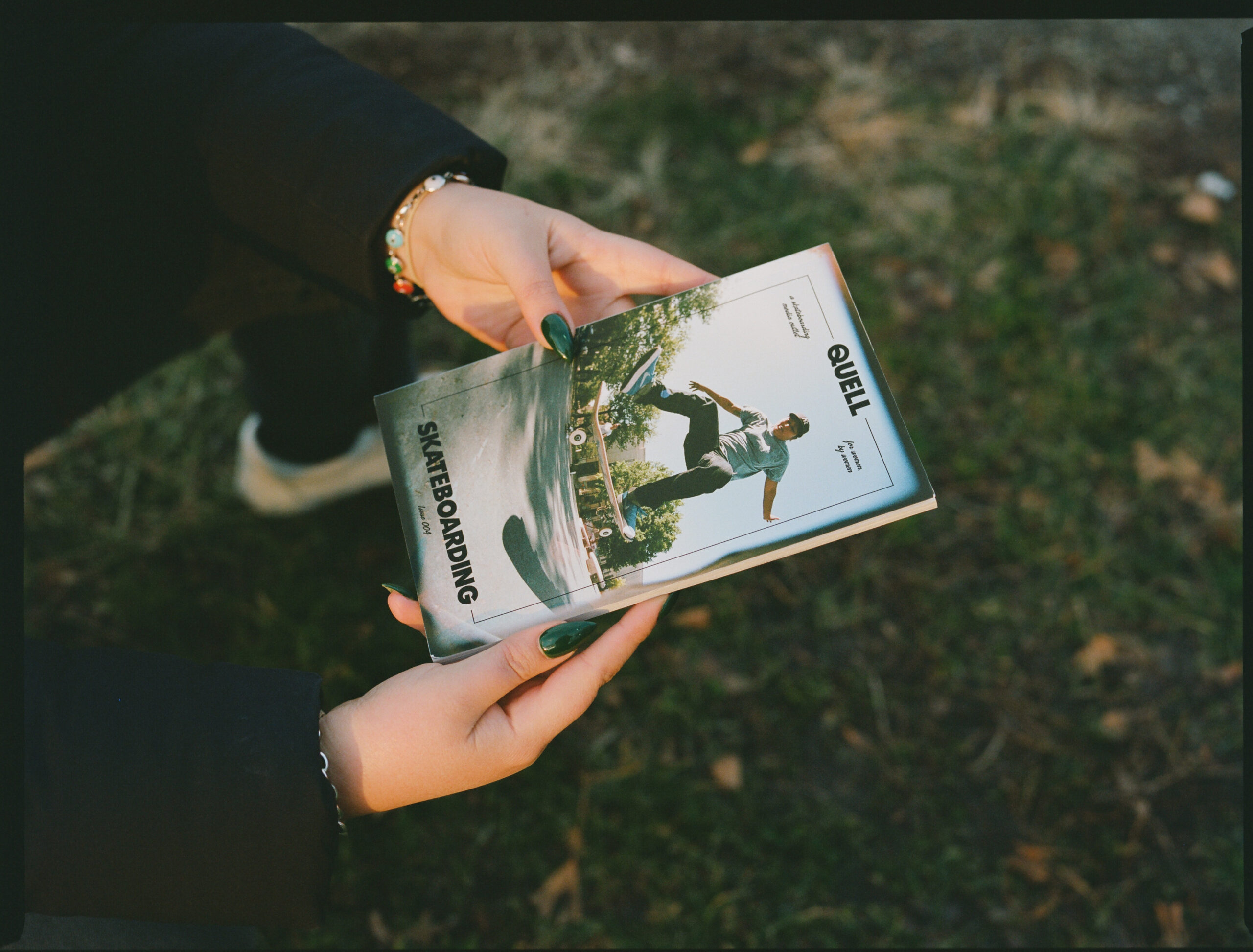 How did you come up with the name "Quell" and how does the magazine's current iteration compare to your original vision/goals for it?
Quell means to stop something by force or to end something and to me the name means that we as women are ending the gender bias towards non-men in skateboarding media and using the energy and momentum of our community to drive a more accepting message forward. 
I think the magazine was my driving force initially but we've really developed a massive platform around what our mission is. The quality, the submissions, the features, the stories we've told – just literally keep getting better and better. I am really fortunate to have that support and acceptance in the community.