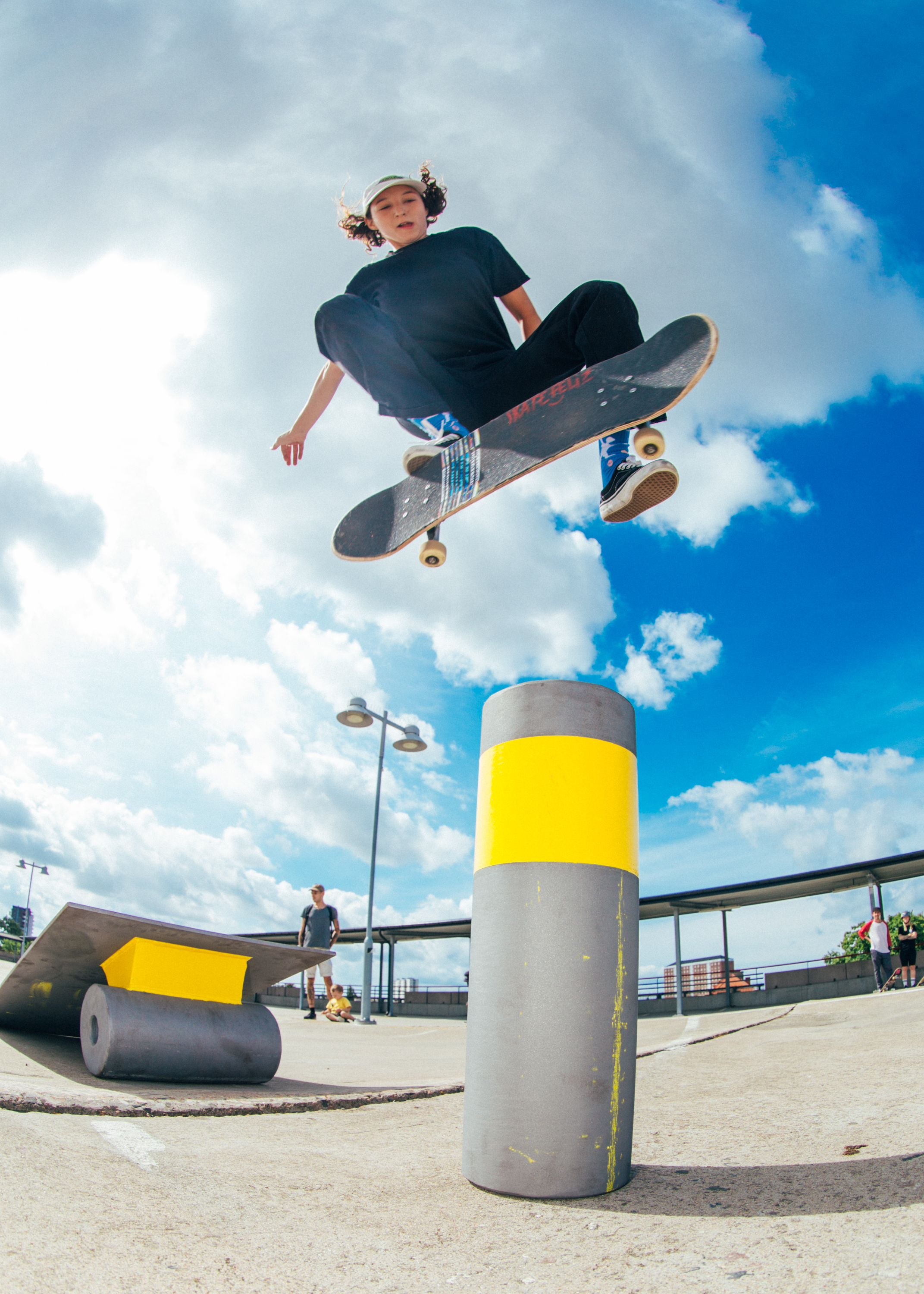 Is it true that the British are nicer than us State-siders? The answer is yes. This is quickly apparent watching "The British Bake Off." Compare that show with "A Shot at Love with Tila Tequila" or "Jersey Shore." It makes you feel like a real spotted dickhead.
Yes, she is British so it's safe to assume she is pleasant, but Helena has one of those magical personalities that surpasses her origins. She doesn't spend too much time worrying about other people's pants, (like some people) she's too busy traveling the globe sharing her love for skateboarding and showing off her pure talent. She's also a rad artist. And the icing on the Victoria Sponge Cake? She's knows how to party. Helena's killing it!
1. Name: Helena Long
2. Age: 28
3. Current location: London, neighbours with the Queenie.
4. Favorite hometown skate spot: Mudchute and Stockwell Skatepark.
5. Sponsors: Vans Europe, Route One & Poetic Collective
6. Catch Phrase: 'No worries!' & 'Argh this trick is taking me soo loooong! So sorry!'
8. Prince William or Prince Harry?: Harry, he's got a cheeky chappy side to him – probs something to do with that firey coloured hair of his ?.  Also he's generally got more hair than William too.
7. Who is Banksy, really? Some rich plonker who's too lazy to actually draw and instead prints off stock imagery from google stencils everything with a paint can.  Just kidding he's a drone really.
8. Where do you find your art/design inspiration? Mostly through architecture and looking at space and cityscapes through the skateboarding lens.
9. Which female skater gives you inspiration?  Oof there's a lot!  In the beginning when I started it was Elissa Steamer, yourself [Amy Caron], Vanessa Torres and Lacey Baker! Still is amongst so many more; Fabi Delfino, Breezy Gerring, Una Farrar, Poppy Starr, Lucy Adams, Shari White, Liisa Chisholm, Lisa Jacobs, Chloe Bernard and Brixton Baddest's finest Aurora & Daphne…..But boy the list can go on!!!!!!
*Fuck how can I forget the fucking real Queen Alex White is massive inspo!!!!
10. One item you can't live without on a skate trip?
If it's abroad it'd probably have to be my passport.  But in general, probably a clean pair of socks and underwear for everyday of the trip.
Check out more of Helena's amazing artwork here!