Vans recently premiered CREDITS, a full length skate film by Shari White.
After watching Credits, I had to stop what I was doing to go slappy some curbs. The film is compiled with epic skate spots, creative tricks, hard slams, and getting busted by cops; this film gives an energetic and a "can-do" attitude. The style is visually enhanced with a nostalgic grittiness by recording with vintage camera equipment. As a filmmaker myself, I had to know more! Overall, the fun-loving, positive, energetic theme of the film definitely unleashed my inner hellraiser to go out and fucking get some!
This film highlights a group of diverse and creative skateboarders, Una Farrar, Breana Geering, and Fabiana Delfino. Additional appearances from Vans team riders and friends, Beatrice Domond, Cher Strauberry, Clara Solar, Poppy Olsen, and more.  Locations are spread across the US and Canada, in addition to Melbourne, Australia and Barcelona, Spain between April 2019 and March 2020.
Read April's interview with Shari
As a filmmaker myself, I'm curious to know what originally inspired you to pick up a camera and start shooting?
Kristin & I were filming parts with Shane Auckland for Sk8rats but he lives in LA so I got a VX so we could try get clips in the PNW too.
I love how you used a 4:3 aspect ratio and mixed HD and Super 8, tell me about the post production workflow and mixing the two. And what was behind the decision to mix the two?
My boyfriend Oli gave me his old super 8 so I first shot a roll when I went to Malmo in 2018 and made the Portal edit. That was my first roll I shot and I used it throughout that edit. In post, I just sort through and link where things match up. It's a mov file so much the same to work with the other clips. The decision was an experiment I suppose, but I'd seen it done in many other edits, and I really enjoyed it.
What is the inspiration behind your creative process in filmmaking, editing, and skateboarding?
The way Shane filmed was a huge inspiration for me. Editing wise I was originally inspired by Atlantic Drift & Isle 'Vase' both by Jacob Harris. I don't know how much I really draw from these, but I like the vibes of 917 & Frog videos and I like the creativity in Hockey & Quasi videos.
Do you have any future goals or plans to get into the narrative film realm?
No I don't at the moment but I'm gonna film a music video this summer for Hoopsnake.
How did you go about choosing your music selection? 
This was one of the hardest parts, but thinking of a style of music for a part and going through Spotify making playlists etc and trying things out.
What was everyone's creative choice/search behind all these epic skate spots? Were there any spots you really wanted to hit, but didn't get a chance to? How far did you all travel to find these spots?
The girls picked cities when they were told about the project. New York & Barcelona are just obvious good places to skate. Our TM Frank is from NY and was our guide. Helena had skated Barc a lot and was our guide, she printed out maps and stuff – was super organized.  I believe Breana chose SF. Fabi is from Miami and was our guide, she'd skated most the spots we went to.  I'd been to Australia the year before and skated in Melbourne with Adelaide and her crew there. She'd come to Vancouver in the time between and met everyone. We had one more trip left and I brought it up to Frank not thinking it would ever happen but it did, that was epic. There's always lots of spots you don't get to on trips but nothing super memorable we missed.
Speaking of really sweet skate spots, that hill bomb with the speed bumps that Clara did- how did that come about? 
Breezy was doing that nollie flip manual and Clara was just messing about off to the side.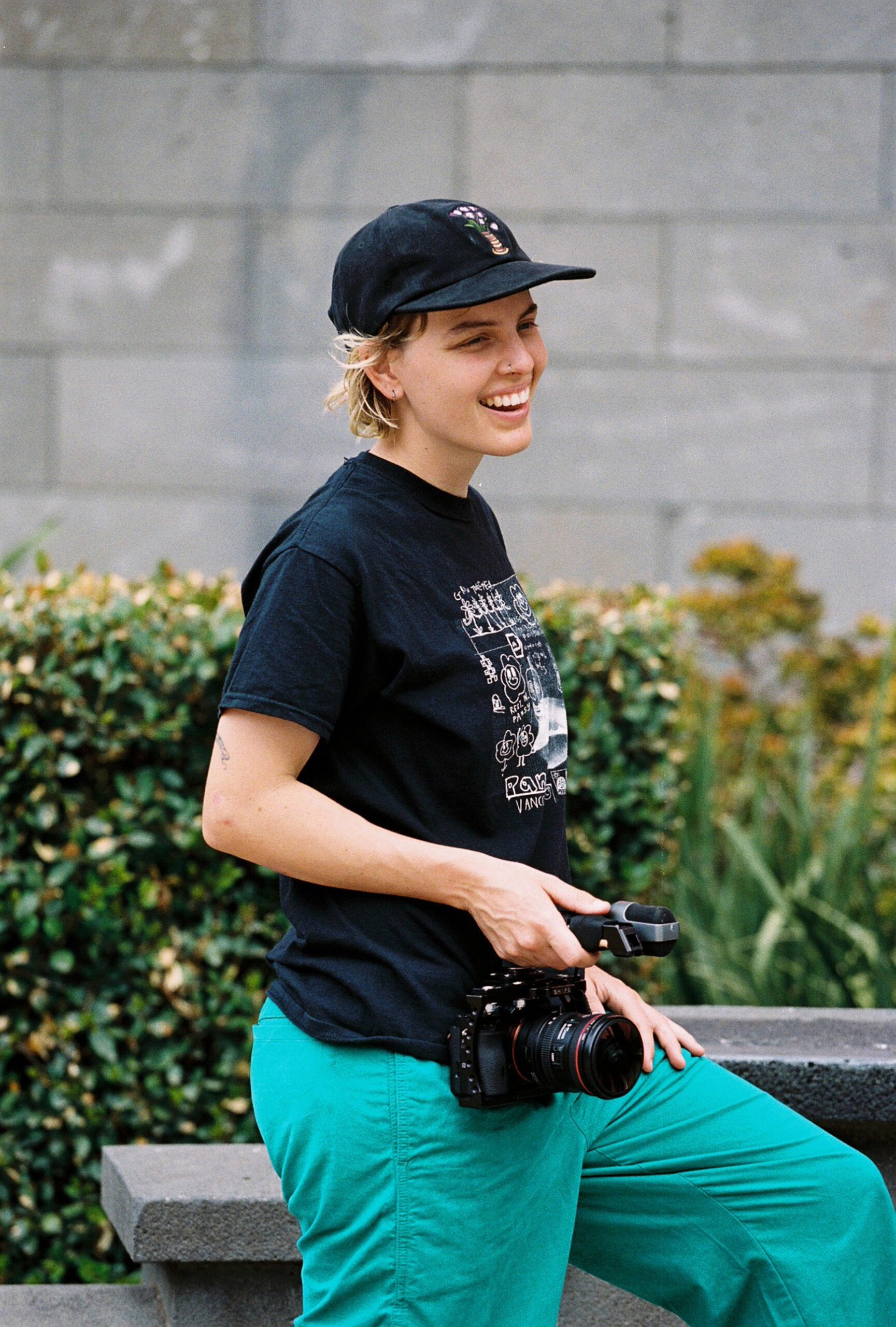 And what happened with the police? Did Fabi get ticketed for that? Where was that? 
That was in Barcelona. Yeh she was asked to come to the Police station, not arrested but she went off in the cop car. Norma went with her and it was just down the road. We skated over there soon after, maybe and hour later. I think it was like 500 euro. They threatened she could be charged because she bumped his knee coming off but luckily they were sort of chill.
In which part of the video did Una tear her ACL? How is her knee recovery currently? Knee injuries are a harsh reality for skateboarders. Wishing her the best!
It was NY on the first trip in May, on the last day I think, she tried to front board a handrail. It was the third attempt, she just came off weird and sat on her back leg. It was a partial tear and was able to recover without surgery. She was back for the Barcelona trip in October. Not 100%, but back wearing a knee brace. She skated Melb in Feb without the brace though. She's a warrior.
So, you spent 2019 and part of 2020 to make this skate film… I'm curious to see if covid-19 got in the way or if there was any word about that during the making of your film? If not, kinda perfect timing right!
Yeah our first trip was May to New York, and our last was a quick trip to SF/Oakland originally booked for March 7 – 16th. When I took off on the 7th, we knew about COVID but it was more about China. While we were there we saw the panic progress. I noticed it most when we went to the same Whole Foods, everyday it got worse and worse, the shelves where emptying. There was some rain in the forecast for the last two days and with the lockdown being threatened I left a few days early on the 14th. I came through the airport and it all mostly seemed normal but in the next few days a lot changed. I'm pretty sure SF went into lockdown on the 17th. So pretty much perfect timing.
What is the overall message and theme you want people to take away from your film?
Skate and have fun with your friends.
April Jones is a documentary filmmaker whose main body of work covers the underground heavy metal and punk rock music genres. Her creativity takes on many art forms, including filmmaking, paintings, music and skateboarding. Check out some of April's work at www.dreamevilpictures.com