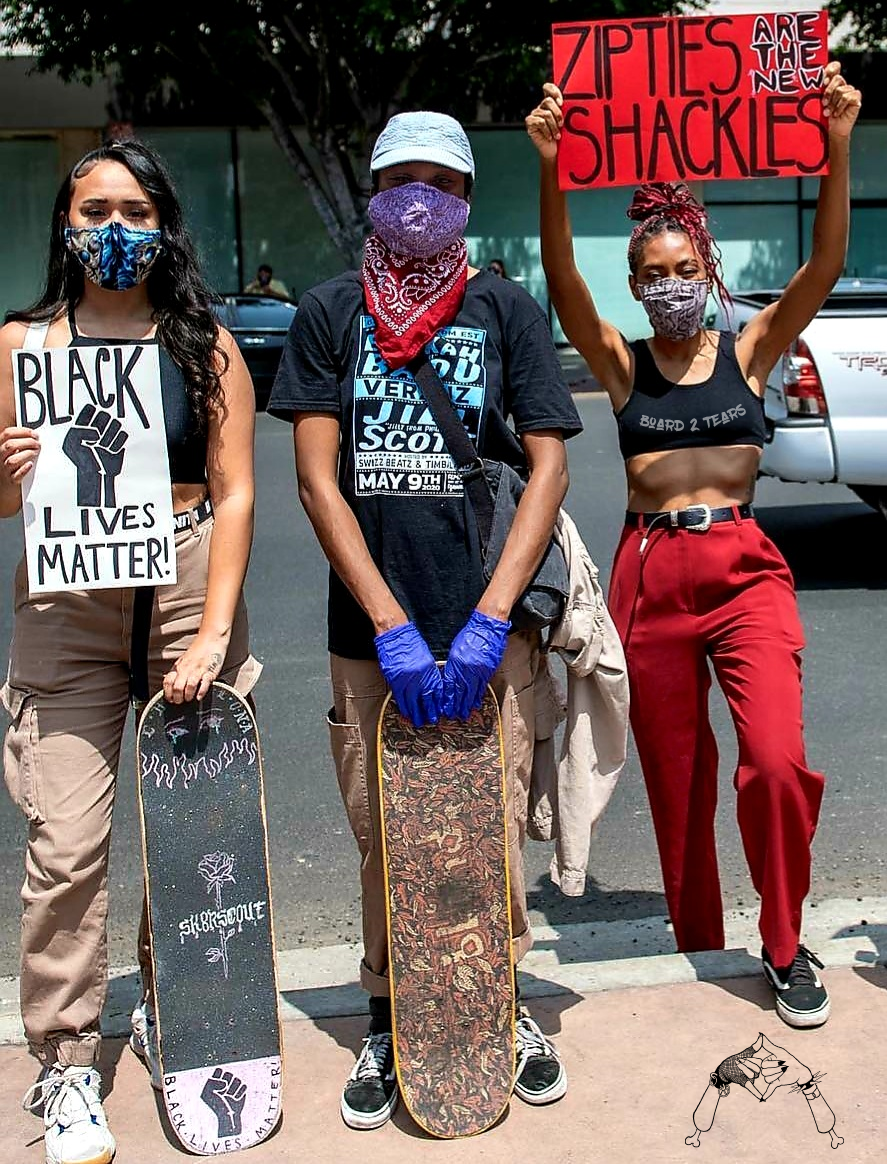 You roll down to the skatepark one day and all of a sudden, 20 years has gone by. And things look different, at the skate spot and beyond. The voice of non-trad skateboarding is being heard and Consent is Rad. What world is this? Board 2 Tears has to be one of the most well organized crews we've featured- they function largely around a discord chat, have a super sweet social media presence and tight events (including the recent Awktober meet up, Trucks or Treat on Oct. 30th, donation-focused Skatesgiving on Nov. 20th… and THANK YOU SO MUCH for all these punny names!) They even have a signature HANDSHAKE. IS THIS A DREAM? Y'all are really speaking our language here…
Anyway, when you grow older, which happens annoyingly fast, you begin to worry more about what kind world future generations will encounter. Then you learn about brilliant people like this, organizing and creating it. A better one than you knew. You exhale. With people like the Board 2 Tears crew taking charge, you know things are going to be alright. -Migz
Crew name: Board 2 Tears
City or region? Los Angeles
What do you do? We host meetups that encourage marginalized skaters who are typically intimidated by the skateparks to come out and hang with us. We have a Discord chat to foster relationships before attending a sesh. Relationships are formed and you feel like you're meeting up with friends. We have each other's back and mob together to tackle obstacles both on and off the skateboard.
Where do you meet? We meet throughout the central LA area. Lincoln Street and Lake Street skateparks are our go-to locations and we're currently scouting other beginner-friendly spots.
How did you start? Crys: Bri and I met at a sesh in 2019. She was visibly nervous which drew me to her and we bonded over feeling out of place. I hadn't skated since I was a kid and Bri was still a beginner. Exchanging Instas with other girls who felt like us that night changed everything. A group chat turned mob of beginner/intermediate skaters cruising LA, documenting, and celebrating every minuscule achievement like we won the lottery. This gave me the confidence to attend a Display Only sesh where I met Ashley, the missing piece to the Board 2 Tears puzzle. That was her first meetup. Kismet.
Can you share a story or favorite moment from a meetup? Ashley: My favorite skate memory has got to be cruising down the streets of Los Angeles for a Black Lives Matter protest, stopping traffic and protesting police brutality. LA has a car-centric culture. It was awesome to see a whole grip of skaters activate downtown in a new people-centric way because I never felt comfortable doing that alone. There was support, safety in numbers, plus we all rode together to a park to hang afterwards.
Bri: People telling us they never felt so comfortable at the skatepark and appreciate the environment we create. It's also cool to see people making plans to skate together!
How can people get involved/support you? From reaching out directly to sharing our page, every bit helps. Any parks you think we should check out? Currently, we're seeking an indoor space to offer in the coming months of winter and Daylight Savings. It's getting dark earlier and we want to foster a safe space for women and LGBTQIA2S+ identities. We look forward to building strong connections and contributing to the skate community.
Any meetups coming up we can share? Trucks or Treat Oct 30th! A trucks themed Halloween costume meetup with giveaways, games, prizes, and food. We will also be co-hosting a donation focused meetup with fellow female-run skate initiative, @Sk8_N_Meet_Santana on Nov 20th for Skatesgiving.
Where can people find you online?
TikTok: @Board.2.Tears 
Email: [email protected]
Discord: https://discord.gg/F6A33SGr
Website: www.board2tears.com
Anything else you want us to know?  B2T isn't just for people who already skate. It can be hard to start when you're scared of falling, or don't have gear. There is loner gear to use and snacks if you just want to chill. Everyone should move at their own pace. We got you.